The Transport Secretary has said that Great British Railways will remove the "blame culture" in the rail industry as he unveiled Derby as the host city of the body's new headquarters.
Mark Harper said that the new body will be "shaped by, delivering for, and a reflection of the whole country" while speaking at The Roundhouse at Derby College, next to the city's train station, on Tuesday.
The East Midlands city was announced as the new home of GBR earlier in the day – an announcement delayed from last autumn – beating bids from Birmingham, York, Crewe, Doncaster and Newcastle, who were shortlisted from a longlist of 42 entries.
Mr Harper, the third transport secretary since GBR was first proposed, said: "We will increase revenue and have an enhanced role of the private sector, get rid of fragmentation and blame culture where Network Rail blames the operating companies and they blame Network Rail.
The exact location of the headquarters in the city is yet to be determined, with the minister stopping short of announcing a specific date for when it would open but saying that the Government, and the GBR transition team, wanted to move "at pace".
The new body will prioritise passenger and freight customers, including having new targets to encourage freight to move by rail rather than road, and will oversee reforms to improve reliability, value for money and customer experiences amid changing passenger habits following the coronavirus pandemic.
Mr Harper said these changes could include completing engineering works at different times, due to a drop in commuter numbers and a rise in leisure passengers, and a simplified ticket system.
When asked whether he was confident that the legislation needed to enact GBR could be pushed through the Houses of Parliament prior to the next general election, Mr Harper said: "A lot of what you can do, you can do without legislation, and we're getting on and doing that, such as having the headquarters here and bringing together decision-making."
He also said he had been "frustrated" with rail strikes and that he hoped RMT members working for train operators would accept a new pay offer, following the acceptance of a new deal for RMT staff working for Network Rail.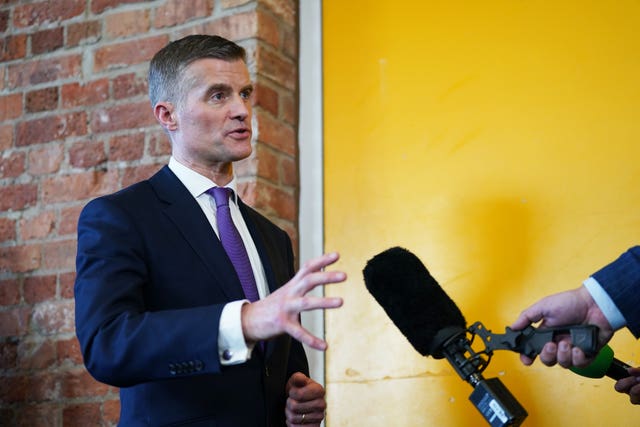 He added: "Today is a day of celebration for Derby, a clear sign of unstoppable momentum we're building towards rail reform, fixing the structural weaknesses and putting it on a sustainable financial footing, which is incredibly important post-Covid.
"I want to be the Secretary of State that encourages more passengers, more revenue, expanding services, not the alternative, which is why I have been frustrated about the industrial action because all that is doing is driving away passenger and freight customers.
"We have got to have more people using the railways."
Will Rogers, managing director of East Midlands Railway – part of the Transport UK Group which operates a number of train companies – said: "We already work very closely with the Department for Transport. As we move to the future, we'll continue to have that close relationship with GBR.
"There's the intent of a bigger role for the private sector and I expect (EMR) to have more of a role in driving revenue and be rewarded for driving revenue, and it really is a big moment for the railway."