Boris Johnson was accused of relying on "flimsy" assurances before issuing his partygate denials, as he insisted there is not a "shred of evidence" to show he lied to MPs.
In at times short-tempered testimony, the former prime minister's defences were met on Wednesday with exasperation by multiple colleagues on the Privileges Committee that could recommend his suspension.
Mr Johnson hit out at the "manifestly unfair" process in the hearing spanning more than three hours but declined to repeat the charge of some allies that the inquiry is a "kangaroo court".
Harriet Harman, the Labour chairwoman of the Tory-majority committee, asked whether he could see why they were "a bit dismayed about the flimsy nature" of the assurances.
Senior Tory Sir Bernard Jenkin questioned why Mr Johnson failed to take "proper advice", which Mr Johnson angrily rejected as "complete nonsense".
Mr Johnson also hit out at Alberto Costa for raising a "completely ridiculous assessment" after the Conservative suggested his reliance on advisers was a "deflection mechanism".
The televised committee hearing began with the former Conservative leader swearing to tell the truth on the Bible.
"I'm here to say to you, hand on heart, I did not lie to the House," he said.
"When those statements were made, they were made in good faith and on the basis of what I honestly knew and believed at the time."
But questioned about a large gathering in the No 10 garden, Mr Johnson said: "People who say that we were partying in lockdown simply do not know what they are talking about."
Mr Johnson could be suspended and face a possible by-election if he is found to have committed a contempt of Parliament with his denials of rule-breaking to MPs.
At one point in the hearing, Mr Johnson said that when he insisted to the Commons that the "guidance" had been followed "at all times" in No 10 he should have said it was all "rules" that had been adhered to.
He said he was "misremembering" the line that had been given to the media by staff as the scandal emerged.
Tory MP Mr Costa said: "Some might see your reliance on the reported assurances you received as, and forgive me, as a deflection mechanism to prevent having to answer questions about your knowledge of these gatherings."
Mr Johnson replied: "No, that would be a completely ridiculous assessment."
Ms Harman, who Mr Johnson criticised for making "prejudicial" remarks in the past, said it was "hard to understand what the nature of an assurance is when you've been there and seen it with your own eyes".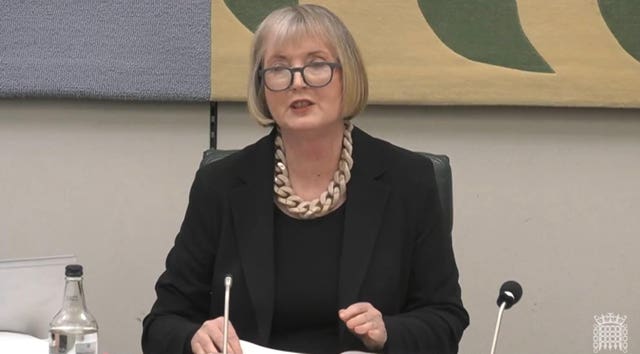 "Do you actually think we would be entitled to be a bit dismayed about the flimsy nature of this assurance?" she asked.
Sir Bernard repeatedly pressed him on his reliance on denials from staff, such as then communications director Jack Doyle.
"Why did you not take proper advice," the Tory MP said.
Visibly angered, Mr Johnson responded: "This is complete nonsense, I mean, complete nonsense. I asked the relevant people, they were senior people."
Tory MP Sir Charles Walker said Mr Johnson's supporters had mounted "a concerted effort to delegitimise the committee, to call us a kangaroo court".
Asked if he regretted that, Mr Johnson said: "There should be no intimidation, there should be no attempt to bully any colleague in any matter whatever."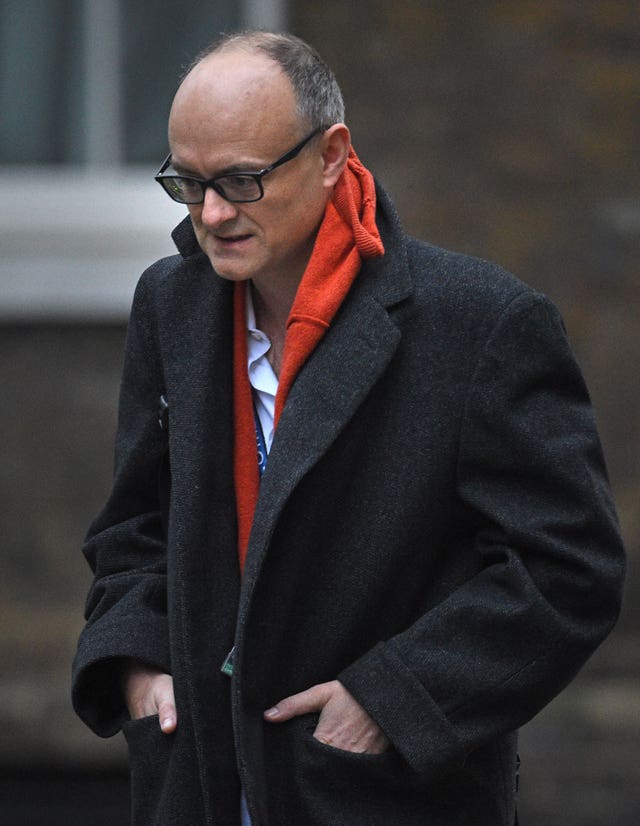 "I come before you this afternoon in full confidence that you will be impartial and that you will look at the evidence and you will conclude that I did not wittingly or recklessly mislead Parliament," he added.
"There's not a shred of evidence to suggest that I did and I hope that you will exonerate me – and I think that you should exonerate me – of any contempt whatever."
Arch-loyalist Jacob Rees-Mogg, who was in the room supporting Mr Johnson, said his friend was "doing very well against the marsupials".
Mr Johnson denied the committee's charge that it should have been "obvious" to him that rules were being breached.
He said if it had been then it would also have been "obvious" to then-chancellor Rishi Sunak. Mr Johnson took a break from the committee hearing to rebel against his successor on the Prime Minister's new Brexit arrangements for Northern Ireland.
Mr Johnson added that a claim by his former aide, Dominic Cummings, to have raised concerns with the then prime minister was "unsupported by any documentary evidence" and "plainly cannot be relied on".
"He has every motive to lie," Mr Johnson said.
In evidence published by the committee, officials denied telling Mr Johnson that no guidance was broken at mid-pandemic parties before he went on to insist all rules were followed.
Cabinet Secretary Simon Case has told the inquiry that he was not aware of any officials giving Mr Johnson that assurance.
Mr Doyle said he did not tell Mr Johnson that all coronavirus guidance was followed.
And former principal private secretary Martin Reynolds said he warned against claiming that all rules had been followed before Mr Johnson issued a denial to Parliament.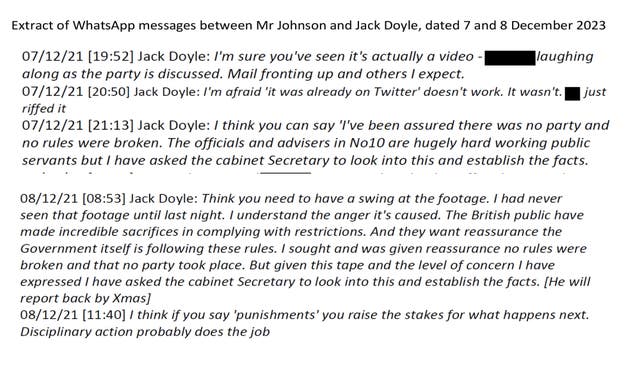 "I accepted this but questioned whether it was realistic to argue that all guidance had been followed at all times, given the nature of the working environment in No 10. He agreed to delete the reference to guidance."
But, on December 8 2021, Mr Johnson went on to tell the Commons "the guidance was followed and the rules were followed at all times".
Mr Case replied to the inquiry's questionnaire asking whether he assured Mr Johnson that Covid rules were "followed at all times" by saying "No".
If Mr Johnson fails to convince the committee that he did not deliberately mislead the Commons, he could be found to have committed a contempt of Parliament.
A suspension of 10 days or more could result in a high-profile by-election in his Uxbridge and South Ruislip seat.
The full House of Commons would vote on any recommendations and Mr Sunak has agreed to give Tory MPs a free vote on their conscience over Mr Johnson's fate.