Deputy First Minister John Swinney has called for parliamentarians to work better with those in other parties, in what is expected to be his last speech on the government's frontbench.
Mr Swinney announced last month he would resign alongside First Minister Nicola Sturgeon, bringing to an end the most successful political tandem since devolution.
A perennial minister since the SNP took power in 2007, Mr Swinney has served in the finance, education and Covid-19 recovery portfolios, as well as spending the past eight years as Ms Sturgeon's second in command.
Closing a debate on the wellbeing economy on Wednesday – in what is likely to be his final contribution as a minister – Mr Swinney said: "I told the First Minister some months ago that I intended to step down at the end of the period with which I have temporarily returned to the finance and economy remit, and I fear that I may have prompted the First Minister to do some reflection of her own at the same time."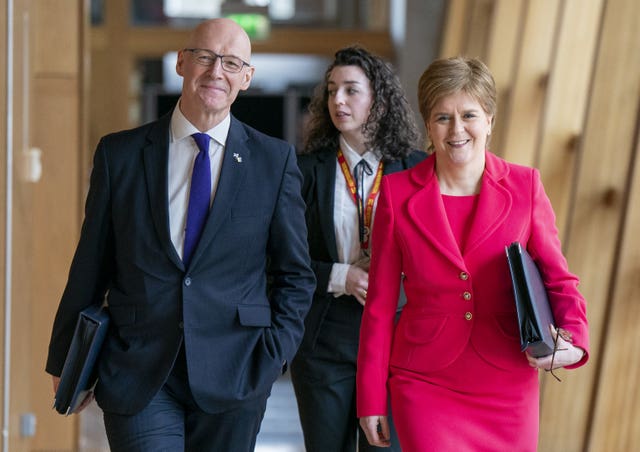 He continued: "As a 15-year-old who joined a party that had terrible electoral prospects in 1979, my long ministerial career has been something of a surprise – there may be hope for some in that observation."
While he admitted he had not "achieved all in my ministerial life" – pointing to Scottish independence as one such issue – Mr Swinney said he was particularly proud of the action he and the government had taken to tackle child abuse, including setting up the Child Abuse Inquiry, along with the creation of Redress Scotland to compensate the victims of historic abuse.
His parting shot, however, was to praise colleagues from other parties, warning parliamentarians they must improve their work across the political divide.
"Those reforms only came about because of a fair-minded, non-tribal spirit in this parliament," he said.
Mr Swinney singled out Tory MSP Jamie Greene for his work on the Redress Bill.
He added: "Alex Rowley and Willie Rennie can often get the greatest degree of reasonableness out of me, and I've experienced it unreservedly in the partnership we have constructed and I have nurtured with the Scottish Greens.
"But can I say gently to parliament, there is not nearly enough of that in the Scottish parliament today.
"I think our discourse would be better for it."
He added: "Yes, my ministerial career has been a bit of surprise to me, but it's also been the privilege of my professional life.
"I'm grateful to the First Minister for giving me the honour of serving as Deputy First Minister, to the people of Scotland for their kindness and to parliament for holding me to account.
"I've done my best, it's now for others to fill this space."
Tributes were paid to Mr Swinney from across the chamber during the debate, so much so that Tory MSP Murdo Fraser – a frequent parliamentary sparring partner of the Deputy First Minister – joked so many "eulogies" had been given "at one point I thought I'd have to cross the aisle to check his pulse".
Fellow Tory MSP Liz Smith said: "We've probably not agreed on terribly much over the years – in fact I think he might argue very little – but I hope he will agree we have enjoyed some engaging conversations."
She added: "No one can doubt John Swinney's commitment to public service, or to government, and I'm very grateful for the courteous approach he's made to me, most of the time, and I want to thank him for that."
While Lib Dem MSP Willie Rennie said he was "jealous" of the Deputy First Minister's effectiveness, referring to him as the "government's sweeper".