Northern Ireland Secretary Chris Heaton-Harris has warned the DUP that there can be "no renegotiating" of Rishi Sunak's new Brexit deal with Brussels, despite the party's demand for changes.
Following talks with Northern Ireland party leaders, Mr Heaton-Harris confirmed the Windsor Framework agreement will be formally adopted by the UK and EU on Friday and will become international law shortly afterwards.
It follows Wednesday's Commons vote when MPs overwhelmingly backed regulations to implement a key plank of the framework – which covers post-Brexit trading arrangements for Northern Ireland – by 515 votes to 29.
Following his meeting with Mr Heaton-Harris at Hillsborough Castle, the Northern Ireland Secretary's official residence, DUP leader Sir Jeffrey Donaldson said it remained no more than a "sticking plaster" solution.
However Mr Heaton-Harris told reporters that the Government was committed to the new arrangements and to making them work with the EU.
"There is no renegotiating of that deal," he said.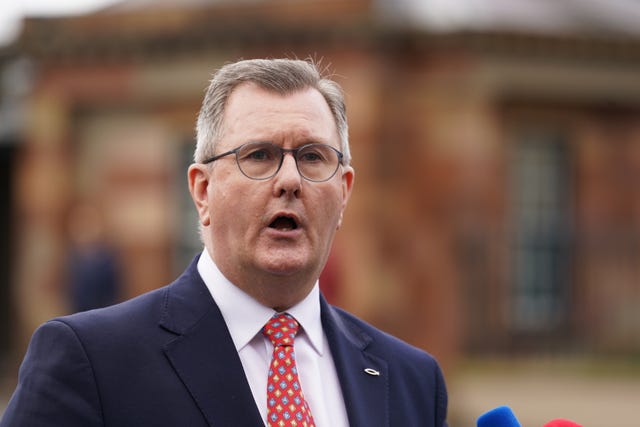 "So there is nothing more to get out of that conversation. It is done."
Sir Jeffrey nevertheless insisted that he would be seeking further talks with Mr Sunak and Foreign Secretary James Cleverly.
"I am not interested in sticking plasters, they don't work and I'm afraid there is in the Windsor Framework an element of the sticking plaster," he said.
"It won't work, it will not deliver the long-term stability and prosperity that Northern Ireland needs."
The executive and the Assembly have been suspended since the DUP walked out last year in protest at the way the Northern Ireland Protocol negotiated by Boris Johnson was operating.
Mr Sunak has insisted the framework deal "fixes" the problems with the protocol but Sir Jeffrey has said "fundamental" issues remain.
The framework will be formally adopted by Mr Cleverly and European Commission vice-president Maros Sefcovic at a meeting in London of the Withdrawal Agreement Joint Committee.