The co-chairman of the British Medical Association (BMA) junior doctors committee has accused the Health Secretary of "trying to pinch pennies" after fresh strikes were announced in a row over pay.
On Sunday, Dr Robert Laurenson apologised for the disruption further walkouts will cause but said he does not think they will put patients' lives at risk.
It comes after the BMA announced on Thursday that a 96-hour walkout will take place for shifts starting between 6.59am on Tuesday April 11 and 6.59am on Saturday April 15, as it claimed that Cabinet minister Steve Barclay has failed to make any "credible offer".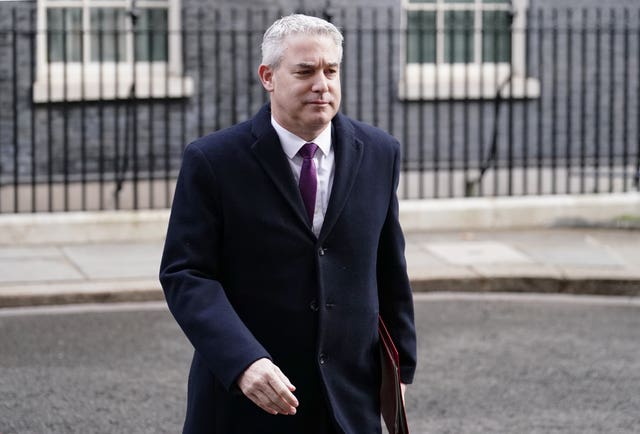 "And so we're trying to approach this from a perspective of doctors looking after patients and wanting to deliver high-quality healthcare, and Mr Barclay is just trying to pinch pennies.
"I think, if you were to ask the ordinary person on the street would they be happy to pay a doctor, 7pm on a Friday night, £19 an hour, I think you'd get a resounding 'Yes, that's reasonable'."
He added: "We're very happy to get around the table. So, next week will mark six months since we started our formal trade dispute, and Mr Barclay has only come to the table twice.
"It's really very difficult to be able to talk to someone who doesn't even want to invite us in, and indeed on Wednesday he left the room.
"He asked us what we would like to talk about, we presented our opening position on what we think would constitute full power restoration and how we'd like to work with him.
"But he didn't ask us any further questions."
On demands for a 35% pay rise, Dr Laurenson said: "So, doctors have lost 26.1% over the last 15 years in real terms and what we're asking for is for that to be restored. So we're asking for it to go back to a cost-neutral point of view from 2008, and what that looks like is about a £5 to £10 an hour increase.
"At the moment doctors start on £14 an hour and we're just asking for that to be restored to £19 an hour."
Asked if their pay demands are too high, he said: "So, I think £1 billion for 75,000 junior doctors, to be able to try and treat the massive workforce crisis and to be able to deliver high-quality care so that people this country, I think that's value for money."
He added: "This strike action, yes, it causes disruption and I'm sorry for that, but it just demonstrates that we have 9,000 vacancies in secondary care, we have 6,000 fewer GPs, and it's very difficult for patients to access healthcare that they deserve."
On Thursday, a Department of Health and Social Care spokesman said: "Further strikes will risk patient safety and cause further disruption.
"The Health and Social Care Secretary met the BMA's junior doctors committee yesterday in the hope of beginning constructive talks to resolve the current dispute.
"The BMA placed a pre-condition on these talks of a 35% pay rise. That is unreasonable.
"Our door remains open to constructive conversations, as we have had with other health unions, to find a realistic way forward which balances rewarding junior doctors for their hard work while being fair to the taxpayer."
The BMA later denied it had placed a pre-condition on talks of a 35% pay rise.