Beggars causing a "nuisance" on Britain's streets will be targeted as part of Prime Minister Rishi Sunak's proposals to crackdown on anti-social behaviour.
Police and local authorities will be given fresh powers to address people deemed to be imitating or causing the public distress, according to the Department for Levelling Up, Housing and Communities.
Law enforcement officers and council workers will be given the "tools" to direct people judged to be causing a "nuisance on the street", including by obstructing shop doorways or begging at cash machines, to health and social services.
This could include helping them to find accommodation or assistance with mental health or substance misuse issues, department officials said.
Part of the plan also includes making it an offence for criminal gangs to organise begging networks to make them extra cash.
The department said the networks are "often used to facilitate illegal activities".
On addressing homelessness, ministers said they remained "committed" to repealing the "antiquated" Vagrancy Act which was passed in the early 19th century.
The legislation made it a crime to sleep rough or beg in England and Wales.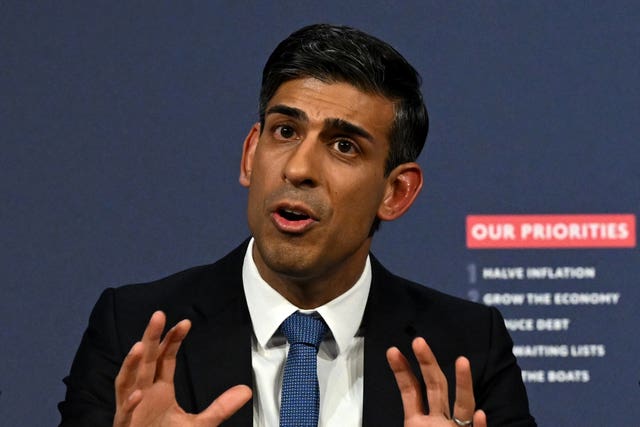 The UK Government consulted last year on how to replace the Act.
The plan to tackle homelessness and nuisance begging forms part of a package of measures aimed at stamping out anti-social behaviour which is due to be unveiled by the Prime Minister on Monday.
It will also include piloting increased police patrols in trouble spots, banning the sale of laughing gas to the public and making it easier for landlords to evict noisy and disruptive tenants.
Mr Sunak, speaking ahead of the plan's official unveiling, said anti-social behaviour "undermines the basic right of people to feel safe in the place they call home" as he vowed to "tackle this issue with the urgency it deserves".