A Labour peer jokingly asked if he could volunteer to be on Boris Johnson's jury, should the former prime minister face a criminal trial over the partygate scandal.
Lord Foulkes of Cumnock's question to justice minister Lord Bellamy sparked laughter across the House of Lords.
In his remarks, Lord Foulkes referred to Lord Pannick, the independent crossbench peer providing legal counsel to Mr Johnson amid the investigation by the Commons Privileges Committee as to whether he misled Parliament over Partygate.
Lord Foulkes said: "Lord Pannick makes me think, if Boris Johnson is brought to trial, would it be possible to volunteer for the jury?"
Lord Bellamy responded: "How on earth is one supposed to answer that question?
"Fortunately it doesn't, as far as I know, arise or certainly doesn't arise yet."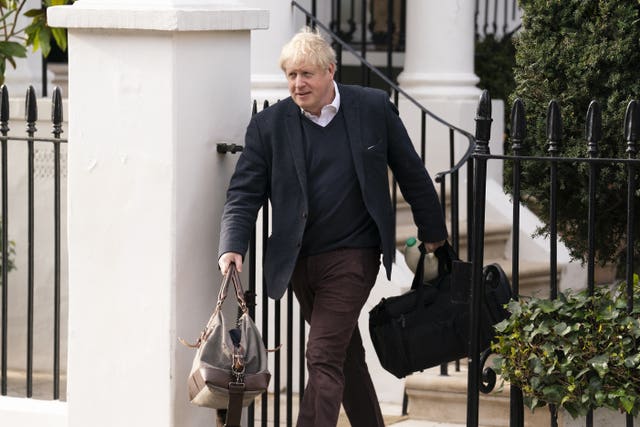 Tory peer Lord Kamall asked of the hypothetical Johnson trial: "Following the question from Lord Foulkes, would counselling also be offered?"
The minister responded: "I don't think I need to answer that question."
While Mr Johnson was fined for breaching Covid rules and is being investigated by the Commons Privileges Committee for potential contempt of Parliament, there is no indication he will face a criminal trial.
Criminal trials select jury panels randomly, and it is not possible to volunteer for a specific trial.
On the topic being discussed in the chamber, Lord Pannick said: "If you're asking jurors to hear a case involving graphic evidence of sex abuse, then it really isn't good enough to say that, if they're troubled, they can go to their GP.
"The same, surely, is true of the judges who have to hear such cases on a regular basis, it is true of the court staff and it's also true of the counsel and solicitors who specialise in this area.
"Really, something needs to be done about this."
Lord Bellamy responded: "The Government is exploring options. Sometimes a judge will warn jurors in advance that it's distressing and ask whether any of them wish to be discharged.
"There is a post-trial leaflet and an interesting video that I watched yesterday for jurors after the trial suggesting what they should do if they feel stress.
"And some courts make references to local charities of their own volition and we're providing further guidance to courts on what to do in those circumstances."