Children cannot be exempted from plans to detain people who cross the Channel in small boats to prevent the creation of a "pull factor", Rishi Sunak has argued.
The Prime Minister told MPs on Tuesday that the new policy should include families to prevent an "incentive" for people to bring minors with them.
He also downplayed suggestions that the stalled policy of deporting asylum seekers to Rwanda could begin this summer.
Mr Sunak's Government has defused a Conservative rebellion from the right by agreeing to hold talks with those wanting to toughen up the Illegal Migration Bill.
But he indicated he would not concede ground to more liberal Tories who want to prevent children being detained indefinitely if they arrive in the UK by unauthorised means.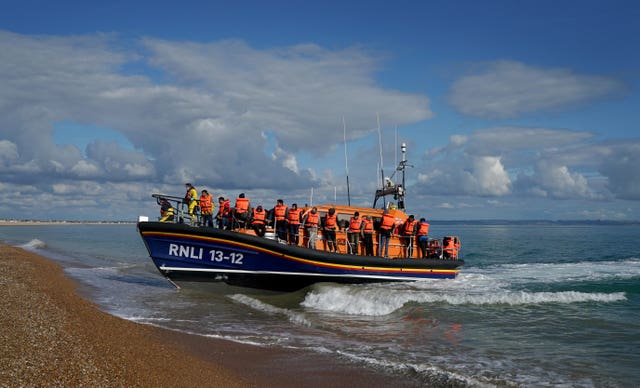 Mr Sunak said: "The intention of this policy is not to detain children but it's important that we don't inadvertently create a policy that incentivises people to bring children who wouldn't otherwise come here.
"Otherwise you create an incentive for a criminal gang to bring a child with them when they otherwise wouldn't be, and I don't think that is a good thing.
"We don't want to create a pull factor to make it more likely that children are making this very perilous journey in conditions that are appalling."
During the appearance before the Commons Liaison Committee, Mr Sunak insisted children "will not be separated from families" and housed in "appropriate accommodation".
The new legislation being debated in Parliament means asylum seekers could be detained indefinitely before being removed to a "safe" country like Rwanda.
It has been denounced by the United Nations' refugee agency as effectively an "asylum ban" and Labour has blasted it for giving the powers to "lock up children".
The widely-criticised policy of sending asylum seekers who arrive by small boats to Rwanda under a £140 million deal with the East African nation has been stalled by court action.
Home Secretary Suella Braverman said while visiting Rwanda earlier this month she was "encouraged" by "constructive" discussions with the European Court of Human Rights.
A source in her department told reporters that they were working to get flights off the ground by the summer.
But Mr Sunak said: "No one has promised flights by the summer. What we've said is we'll start flights as soon as we can after legal proceedings have completed."