Germany's president has praised the King's green "convictions" and thanked him for making the "personal gesture" of choosing his country as the destination for the monarch's first state visit.
Frank-Walter Steinmeier's comments came as he joined his royal guest at a Berlin reception designed to highlight the work of the UK and Germany in promoting climate and sustainability efforts.
The German statesman said in a speech: "I am grateful that King Charles III began to champion healthy nutrition, sustainability and climate action very early on. We are all benefiting today from Your Majesty's convictions."
He added: "This visit, Your Majesty's very first trip abroad as the new King, is a tremendous personal gesture – and for that I would like to express my heartfelt thanks. I am looking forward to the coming days and to the many opportunities we will have to exchange views."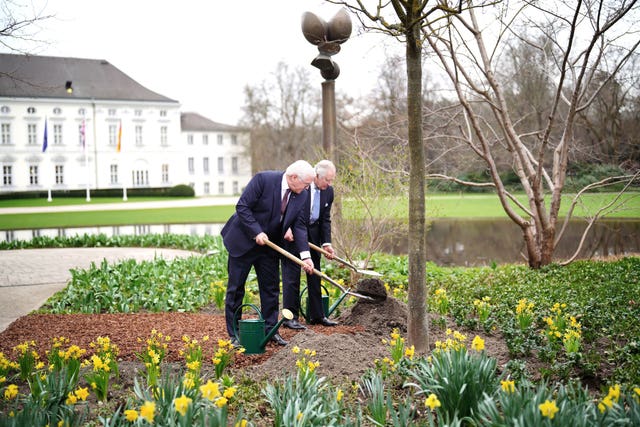 The event, which coincided with the state visit, is a leading international forum for politicians, policymakers, industry, science and civil society and among the guests were the UK's Foreign Secretary James Cleverly, energy ministers, chief executives, experts and academics.
Charles had an animated chat with a group of young climate activists and was presented with a traditional "lengyan phi", a handwoven scarf from Manipur in India, by 11-year-old Licypriya Kangujan.
Referring to the issue of climate change in her home country, the monarch said: "I know what a huge challenge it is in India."
Licypriya, who was in Germany with her mother, said afterwards: "It was really nice to meet King Charles III, I really never hoped it might happen.
"It's good to know that he has always been working for the environment."