Ambulance handover delays outside hospitals in England have returned to their highest level since the start of the year, as NHS chiefs warned staff remain under "considerable pressure".
Some 28% of patients waited at least half an hour last week to be handed to A&E teams, up from 23% the previous week, while 12% waited over an hour, up from 9%.
The figures reverse the improvements seen earlier this month and mean delays are back at their highest level since the first week of January, when 36% of patients had to wait at least 30 minutes and 19% more than 60 minutes.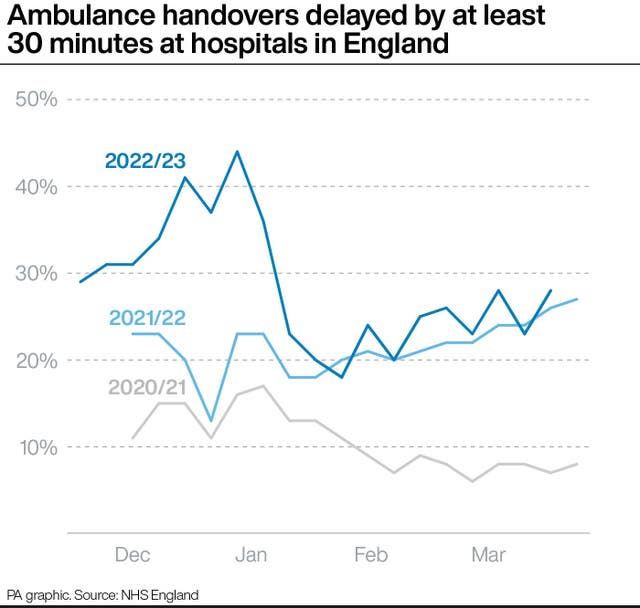 Handover delays are often linked to a shortage of space caused by people who no longer need to be in hospital beds.
An average of 13,300 beds per day last week were filled by people ready to be discharged, compared with 12,643 at this point last year.
Overall, 42% of medically fit patients in England were discharged last week, though the rate varies between regions, from 31% in the North West to 52% in eastern England.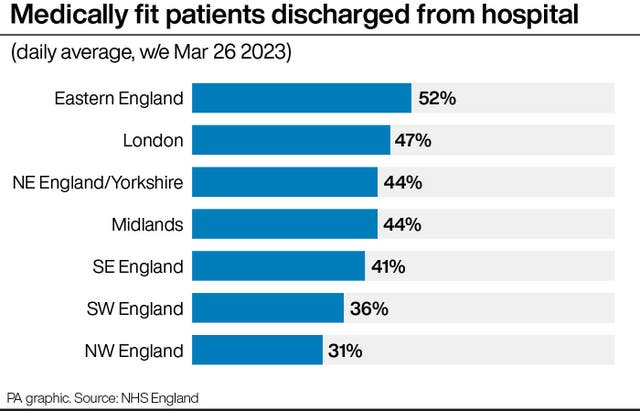 He added: "Thousands of patients are still in hospital every day with winter viruses, including almost 8,000 patients with Covid, double the number of norovirus cases compared to this time last year, and we have worryingly seen the number of patients in intensive care with flu rise on the week before.
"However, despite this continued pressure and trusts starting to prepare for the expected impact of the upcoming bank holiday weekend and junior doctors' strike, staff continue to go above and beyond in delivering care treating nearly 80,000 patients who arrived in A&E by ambulance last week and answering more than 330,000 111 calls."
The four-day Easter weekend begins on April 7, while junior doctors in England are due to begin a 96-hour strike on April 11 in an ongoing dispute over pay.
There are sharp differences across England in the level of ambulance handover delays, PA analysis shows.
Of those trusts reporting more than 1,000 ambulance arrivals last week, 38% of arrivals were delayed for at least 30 minutes at University Hospitals of Leicester, 42% at University Hospitals Dorset and 45% at University Hospitals Birmingham.
But just 17% were delayed at East Kent Hospitals, 12% at the Frimley Health Foundation Trust in Berkshire and Surrey, and only 2% at Leeds Teaching Hospitals.