The UK's economy grew slightly in the final three months of 2022, according to revised official figures.
The Office for National Statistics (ONS) had previously reported 0.0% growth in gross domestic product (GDP) at the end of last year, indicating that the UK avoided a recession by the skin of its teeth.
Economists said this was largely due to better-than-expected performances across the telecoms, construction and manufacturing industries.
A recession is generally defined in the UK as two quarters of declining GDP in a row.
The revision more firmly indicates that the country avoided a recession during the second half of 2022.
It comes after a 0.1% decline in the third quarter, with decline for the period reduced due to another revision.
ONS director of economic statistics Darren Morgan said: "The economy performed a little more strongly in the latter half of last year than previously estimated, with later data showing telecommunications, construction and manufacturing all faring better than initially thought in the latest quarter.
"Households saved more in the last quarter, with their finances boosted by the Government's energy bill support scheme.
"Meanwhile, the UK's balance of payments deficit with the rest of the world narrowed, driven by increased foreign earnings by UK companies, particularly in the energy sector."
Earlier this month, the ONS reported an improvement in the economy in January, delivering a 0.3% increase in GDP during the month.
Prime Minister Rishi Sunak had said it showed that the "underlying fundamentals of the economy are strong" despite seeing a sharp downturn in GDP of 0.5% in December.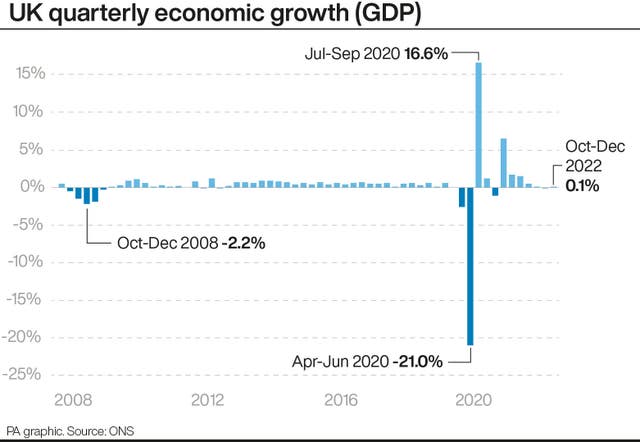 Philip Shaw, chief economist at Investec, said: "The latest release takes the UK a little further away from the recessionary danger zone, although the report does not change the overall picture that the economy's performance was lacklustre over the second half of last year as the cost-of-living crisis hit hard."
Martin Beck, chief economic adviser to the EY Item Club, added that the economy is also likely to avoid a recession over the first half of this year.
"Recent economic data has delivered mostly positive surprises, but growth in Q1 faced headwinds from a poor starting point, continued industrial action in some sectors, still-high inflation and rising interest rates," he said.
"While some of these adverse forces are now easing, May's extra bank holiday could exert a drag on output in several sectors, holding back expansion in Q2.
"However, prospects should brighten in the second half of 2023, as energy bills start to fall, inflation decreases at pace, and the Budget's fiscal loosening takes effect."