A football fan who sent a "vile" racist tweet about Irish international striker Michael Obafemi has been sentenced.
Swansea City supporter Josh Phillips posted the abusive message in response to a tweet from the club announcing the then 22-year-old player was being transferred on loan to Burnley Football Club.
Phillips, 26, said he was a supporter of Mr Obafemi and had become "upset" at the news while speaking to friends in a pub where he had been binge drinking for several hours.
He published the tweet on the evening of January 28 including a reference to Mr Obafemi's name and an offensive racial slur.
Phillips deleted the tweet within around 20 minutes but in that time it was seen around 52 times and shared by other users.
Most fans reacted negatively, calling out the tweet as "unacceptable", but some were supportive with one person replying: "Nice one JP."
At Swansea Magistrates' Court on Friday, Lisa Jones, prosecuting, said police traced the account and Phillips was arrested on February 1 at his home in Swansea.
He later pleaded guilty to sending a message on a public communications network that was grossly offensive, indecent, obscene or menacing, contrary to the Communications Act 2003.
A club season ticket holder from the age of four, Phillips said he had attended every home match since then as well as around 15 away games a season. He was also a holder of a priority group one season ticket for Wales games.
Mark Davies, defending, said his client was a "hard working" and "honest" man with no previous convictions or history of hostility towards people of other ethnicities.
Mr Davies formally apologised on behalf of Phillips to Mr Obafemi during the hearing and told the court the defendant had since been sacked from his IT job, lost friends and no longer went out.
In a victim impact statement read to the court by Ms Jones, Mr Obafemi said: "This is something that has shocked me and made me feel sick.
"I would describe myself as a black male and this comment is clearly meant to insult me and abuse the colour of my skin and insult my race.
"Racial abuse towards me is totally unacceptable," he added.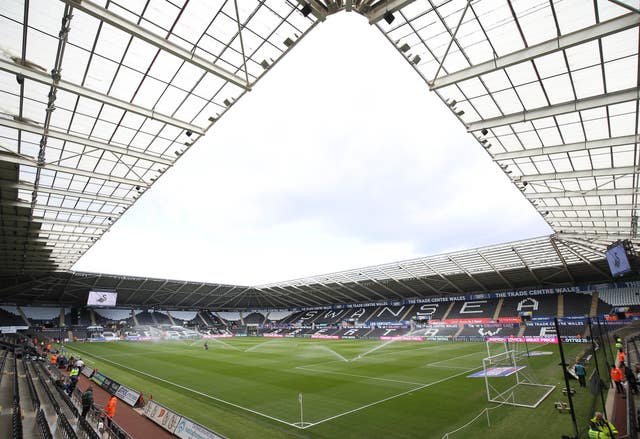 "It is extremely offensive and distressing for me, my family and friends who will read it.
"I would like the person that has done this to me to be made an example of so it doesn't happen in the future and shows people that people in my profession are not scared to act."
District Judge Christopher James said: "It's clear that you, under the influence of alcohol and fuelled in that way with your friends, took objection to the move and then in a drunken state posted that message which, albeit short, was grossly offensive, abusive and as already noted, racially aggravated.
"It was posted on a social media platform with no boundaries. It therefore can be viewed nationally, internationally and the potential audience is therefore global.
"It caused significant distress and upset to Mr Obafemi, who was abused racially because of the colour of his skin.
"No one should be treated in this way and certainly no one deserves to be treated in such a way. You have exposed him to discrimination."
"You express remorse and regret and are deeply ashamed by what you've done – so you should be."
Judge James sentenced Phillips to 12 weeks in prison suspended for 18 months.
He was also made the subject of an electronic tag requiring him to be at home from 5pm until midnight every night for the duration of his sentence.
A football banning order was placed preventing him from attending or entering licensed premises within 2,500 metres of a Swansea City home match at the Liberty Stadium, or visiting any town or city where Swansea is playing away or any area where national side Wales are playing.
Matthew Henson, of the CPS, said: "Hate crime is truly abhorrent and has a significant detrimental impact on victims and the wider community."
Douglas Mackay, Deputy Chief Crown Prosecutor for West Midlands and CPS sports lead prosecutor, said: "We will continue to work closely with the police, football authorities and fan groups to stamp this out to make sure that football is a game for everyone and not one that discriminates against anyone.
"We call on football fans to report incidents of hate crime and other criminality to the football clubs or the police."