Sir Keir Starmer said Brexit "has had an impact" on cross-Channel journeys after a weekend of disruption at the Port of Dover.
The Labour leader urged the Government to "get a grip", after coach passengers were forced to spend hours waiting to enter the Kent port, be processed and board ferries at the start of the Easter holiday period for many schools.
The queues had cleared by Monday morning but there are fears that the congestion could return during other peak periods due to French border officials having to stamp UK passports following the withdrawal from the European Union.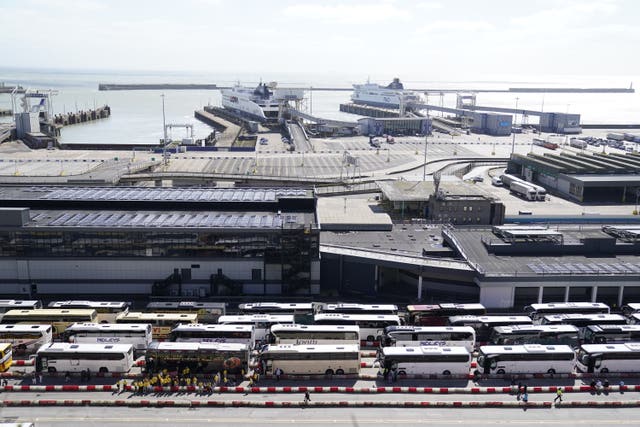 "That doesn't mean that I am advocating a reversal of Brexit, I am not. I have always said there is no case now for going back in."
He added: "Once we left, it was obvious that what had to happen at the border would change.
"Whichever way you voted, that was obvious. Whichever way you voted, you are entitled to have a Government that recognises that and plans ahead.
"Yet again we have got to the first big holiday of the year and we have got queues, to the great frustration of many families trying to get out to have a well-earned holiday, and I think my message to the Government, their message, would be 'Get a grip'."
Eurostar revealed earlier this year it is forced to leave hundreds of seats empty on trains to and from London St Pancras to avoid long queues at stations.
The cross-Channel train operator said this is largely due to a reduction in the number of border officials, but also blamed the stamping of UK passports post-Brexit.
Julia Lo Bue-Said, chief executive of Advantage Travel Partnership, the UK's largest network of independent travel agents, said: "It's distressing to see the whole scenario that's played out at Dover this weekend, and hugely disappointing for those that are trying to get away for the Easter period.
"We always knew it was going to be a busy period for ports and airports, and, whilst mitigation measures were put in place, it is clear that the Brexit impact has not been adequately planned for.
"Since the UK left the EU, the need for passports to be stamped and checked by French authorities – which is done at Dover – has created a bottleneck at the port and is a major contributor to the delays that have been experienced."
On Sunday night, the Port of Dover said around 40 coaches were queuing for immigration processing, with a wait of around four hours expected.
At 2.30am on Monday, the port said the A2 and A20 approach roads were "running normally".
Logistics company DFDS tweeted that the buffer zone and border controls had been cleared by midnight.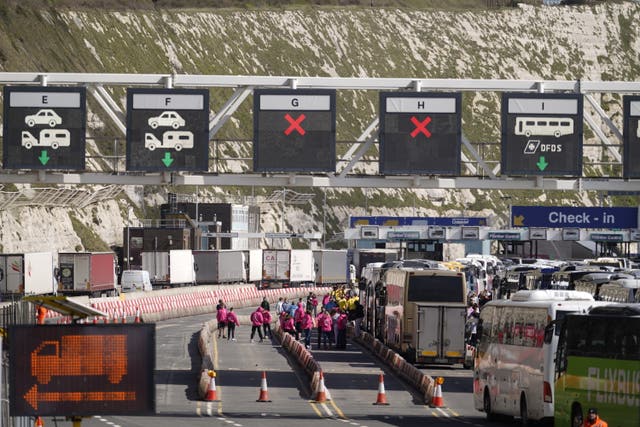 Extra sailings ran overnight, with port officials saying they worked "round the clock" with ferry operators and border agencies to get coach passengers on their way.
Home Secretary Suella Braverman rejected suggestions that Brexit could be the cause of delays at the port.
She said it would not be fair to view the delays as "an adverse effect of Brexit".
She told the Sophy Ridge On Sunday programme on Sky News: "What I would say is at acute times when there is a lot of pressure crossing the Channel, whether that's on the tunnel or ferries, then I think that there's always going to be a back-up and I just urge everybody to be a bit patient while the ferry companies work their way through the backlog."
She suggested that in general "things have been operating very smoothly at the border".