Passport Office staff in Scotland could make more money "working in a cafe or supermarket", a union representative has said as workers begin a five-week strike in a row over jobs, pay, pensions and conditions.
More than 1,000 members of the Public and Commercial Services Union (PCS) at eight sites are walking out in an escalation of the long-running row.
Workers are picketing outside eight Passport Office sites across the UK, including in Glasgow, and calling for a 10% pay rise.
PCS Scotland branch secretary Andrew Bain told PA news agency: "We've actually had two pay rises this year, because our lowest grade would have fallen under the National Minimum wage. That's just how close we are to the breadline at the moment.
"We've got members who are having to rely on Government benefits and foodbanks just to get through the month. It's a shocking situation for workers of the Government to be in. They could find better wages working in the cafes and shops in Glasgow."
He added: "We've got examiners doing complex case work on nationality and things like that and it seems like they would be better off to work for the likes of supermarkets, where there are higher wages and far less stress, being told you're only worth 2% has a massive impact on your morale and mental health.
"We're only in this position because the Government refuses to engage with us. We are at a crisis point."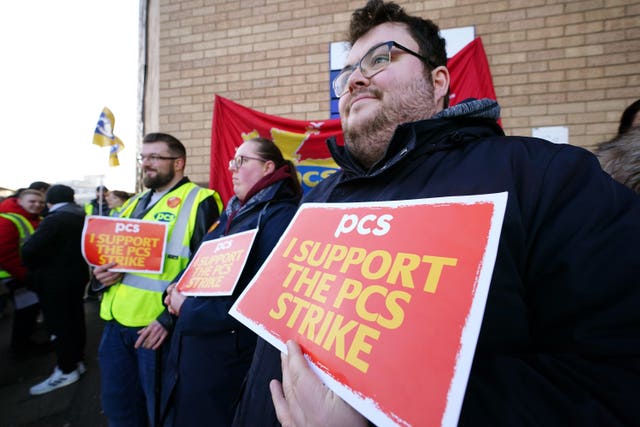 When asked about possible disruption facing those renewing passports, he added: "The Government is still adamant that the 10-week policy will remain in place.
"Before the strike action was happening, we received a turnaround of about 14 days of renewal, so in all likelihood it might still be a 10-week period for passport applications.
"At the end of the five weeks, we'll be back in the office processing these applications and if the Government was actually to come to the table and talk to us about this, and offer a decent pay rise, we would be back in work tomorrow to process the applications.
"We will be able to get most passports out the door once we're back in the office, but there will be a knock-on effect, there always is.
"There was one last year when we were working at full capacity and we still had a backlog. A lot of it is panic. I would say if you don't need to renew your passport just yet, don't renew your passport."
Picket lines are also being mounted outside offices in England at Durham, Liverpool, Southport, Peterborough and London; plus Belfast in Northern Ireland and Newport, Wales.
The union is stepping up strikes, with a nationwide walkout of more than 130,000 civil servants planned for April 28.
The Home Office said the Passport Office has already processed more than 2.7 million applications this year, and added that more than 99.7% of standard applications are being processed within 10 weeks, with the majority of those delivered to customers well under this timescale.
There are currently no plans to change official guidance which states that it takes up to 10 weeks to get a passport.