Industrial action in different sectors will continue to cause disruption across the UK in the coming weeks.
Some planned walkouts have been suspended so union members can vote on fresh pay offers, while teachers have rejected a deal.
Here is a round-up, sector by sector, of some of the strikes that are happening, are scheduled to take place, or that have been averted.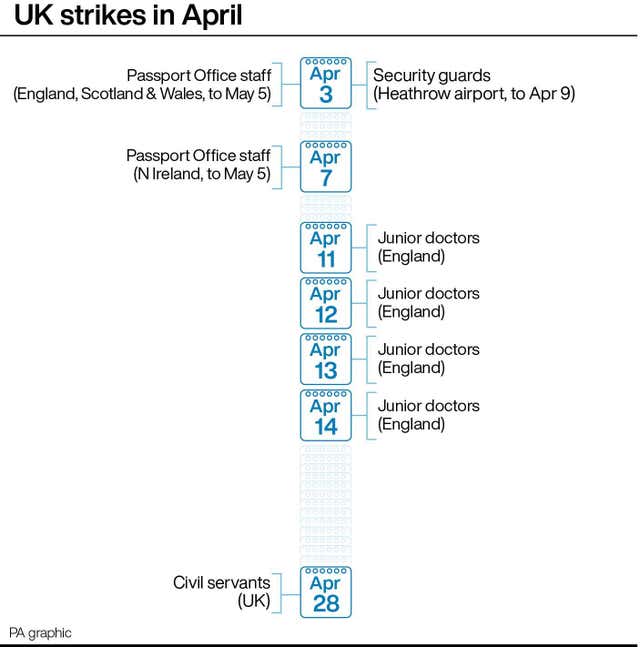 Schools in England face further walkouts this spring after members of the largest education union in the UK snubbed a Government pay offer.
Some 98% of National Education Union (NEU) teacher members in England, who responded in a consultative ballot, voted to reject the deal.
The NEU had urged its members to reject the offer and now plans to hold two further days of teacher strikes on April 27 and May 2.
The Government had offered teachers a £1,000 one-off payment for the current school year (2022/23) and an average 4.5% pay rise for staff next year (2023/24), and Education Secretary Gillian Keegan suggested they could miss out on an increased pay deal this year if they rejected the deal.
Members of the NASUWT teaching union, the Association of School and College Leaders (ASCL) and the National Association of Head Teachers (NAHT) are also being asked for feedback on the Government's offer.
It comes after many schools in England were forced to partially or fully close during strikes staged by the NEU in February and March as a result of a dispute over pay.
Junior doctors in England are to stage a fresh round of strikes after talks with the Government failed to resolve a bitter row over pay.
The British Medical Association (BMA) said a 96-hour walkout will take place for shifts starting between 6.59am on Tuesday April 11 and 6.59am on Saturday April 15.
Junior doctors in the Hospital Consultants and Specialists Association (HCSA) will strike on the same days.
A Department of Health and Social Care spokesman said the BMA placed an "unreasonable" pre-condition on talks of a 35% pay rise but the union denied this was the case.
BMA members who are junior doctors in Scotland will receive a ballot on Wednesday asking them if they support walkouts as part of their campaign for a pay rise.
Voting will close on May 5, and if strikes are backed the doctors will begin their action with a 72-hour full walkout on weekdays.
It comes as up to 280,000 Royal College of Nursing (RCN) members in England are set to vote on whether to accept the Government's NHS pay offer.
Members will have until 9am on April 14 to cast their vote on the offer which the RCN Council has recommended should be accepted.
The proposed deal – which involves two one-off payments for the current financial year – affects each worker differently, depending on which pay band and pay point they are on.
The combined payments are worth between £1,655 and £3,789 dependent on salary band and are additional to increases already made this financial year.
These are referred to as non-consolidated amounts as they do not count towards members' pensions and are not added to their future pay packet.
There will be a permanent 5% pay rise on all pay points for 2023-24.
The RCN vote comes after six days of strikes since December in the long-running dispute over pay.
– Civil Service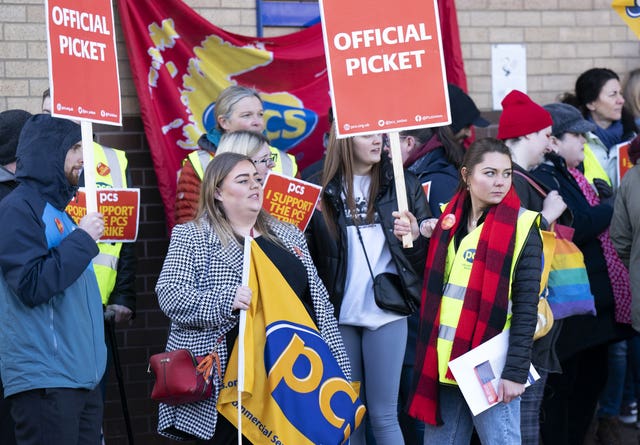 More than 1,000 members of the Public and Commercial Services union (PCS) at eight sites were walking out, with picket lines outside offices in Glasgow, Durham, Liverpool, Southport, Peterborough, London, Belfast, and Newport in Wales.
The union is stepping up strikes, with a nationwide walkout of more than 130,000 civil servants planned on April 28.
– Airport security
Heathrow security guards are currently on a 10-day strike over pay which may cause flight disruptions over the Easter weekend.
Some 1,400 members of Unite began their action on Friday March 31 after talks broke down the previous evening.
Members have set up picket lines outside the airport.
The airport's chief executive, John Holland-Kaye, said last week: "Heathrow is operating as normal. If you're travelling over the Easter period, don't worry, you'll have a good journey."
Unite general secretary Sharon Graham said: "Heathrow can afford to pay a decent pay rise to its workers.
"Heathrow executives seem to think it's acceptable to offer what amounts to a real-terms pay cut to its security guards and ground staff who are already on poverty pay."
The strike ends at 23.59pm on Easter Sunday, April 10.
– Transport
The Rail, Maritime and Transport (RMT) union suspended strikes which were scheduled to take place on March 30 and April 1 to engage in further talks with the Rail Delivery Group.
The move follows further discussions between the union and the organisation in the long-running dispute over pay, jobs and conditions.
The union has already resolved its row with Network Rail in a similar dispute.
On March 20, the RMT announced that its members in Network Rail had voted to accept an offer to end the row over pay, jobs and conditions.
In a turnout of nearly 90%, members voted by 76% to 24% in favour, signalling an end to the row which led to a series of strikes in recent months.
The union said the deal includes an uplift on salaries of between 14.4% for the lowest paid grades to 9.2% for the highest paid, increased back pay, a no compulsory redundancy agreement until January 2025, and rail travel benefits.
– Amazon
The GMB union has said more than 500 of its members at an Amazon warehouse in Coventry will strike for three days from April 16 and again from April 21-23 in an escalation of a dispute over pay.
The six days of action follow a series of stoppages earlier this year.
The GMB has also said it will be balloting its members at five more Amazon sites across the Midlands for strikes "over a 50p pay rise enforced by Amazon management".
The online giant has said the minimum starting pay for its employees will increase to between £11 and £12 an hour depending on location.
– BBC
BBC journalists in England are to stage a 24-hour strike from midnight on May 5 to coincide with the reporting of local election results, in a dispute over cuts to local radio.
It will be the second walkout by members of the National Union of Journalists (NUJ) after a strike on Budget Day.
The union says BBC management wants local radio stations to share programmes across the network from 2pm on weekdays and at weekends, going from more than 100 hours of local programming on every radio station every week down to 40.
A BBC spokesman said: "We have a plan to modernise local services across England – including more news journalists and a stronger local online service – which will see no overall reduction in staffing levels or local funding."