Schools in England could face strikes into the autumn term after members of the largest education union in the UK overwhelmingly rejected the Government's pay offer.
Teachers in England will strike on April 27 and May 2 after 98% of National Education Union (NEU) teacher members, who responded in a consultative ballot, voted to turn down the deal.
Schools could face further teacher walkouts in the summer term and into the next school year amid the ongoing dispute over pay, NEU bosses have warned.
Teachers waved flags, stood and applauded, and shouted "Come on, Gill, pay the bill" when the result of the ballot was announced at the NEU's annual conference in Harrogate, North Yorkshire, on Monday.
Overall, 195,564 NEU teacher members voted on the pay offer – a turnout of 66% – and of those, 191,319 (98%) voted to reject the deal.
After a period of intensive talks with unions, the Government offered teachers a £1,000 one-off payment for the current school year (2022/23) and an average 4.5% pay rise for staff next year (2023/24).
Downing Street said the Government has "no plans" to make an improved offer after the existing one was rejected.
An urgent motion on teachers' pay, due to be debated at the conference on Tuesday, calls on the NEU executive to use the exam period from May 15 to begin a re-ballot of teacher members in England.
If successful, the ballot could lead to a programme of action in the autumn term, as well as a national demonstration in Manchester during the Conservative Party Conference in October.
The motion calls on the union to timetable a three-day strike in late June/early July, which would be confirmed by the executive in mid-May.
"I think the ballot result we have announced today proves that we can win a re-ballot. I think they would think that we wouldn't win a re-ballot. We will.
"We will win a re-ballot and that will take us into next year and into their election year."
Asked whether the NEU could rule out strikes up until Christmas, Mr Courtney added: "We are not ruling anything out. The motion will make decisions and the debate at the conference will make decisions. But in the motion it talks about taking action in the autumn term."
On the possibility of further strikes in the summer term, Mary Bousted, joint general secretary of the NEU, said: "If (conference) did decide to do strikes during exams – but I think it's unlikely – then we would grant exemptions. It means that Year 11, Year 13, Year 6 go on with education."
On the forthcoming strike days, April 27 and May 2, the NEU is asking school reps to plan with headteachers to ensure that Year 11 and Year 13 students taking exams have a full programme of education.
Many schools in England were forced to partially or fully close during strikes staged by the NEU in February and March as a result of a dispute over pay.
On the NEU's rejection of the Government's pay offer, Ms Keegan said: "After costing children almost a week of time in the classroom and with exams fast approaching, it is extremely disappointing that the NEU have called more strike action."
She added: "The offer was funded, including major new investment of over half a billion pounds, in addition to the record funding already planned for school budgets.
"The NEU's decision to reject it will simply result in more disruption for children and less money for teachers today. Pay will now be decided by the independent pay review body, which will recommend pay rises for next year."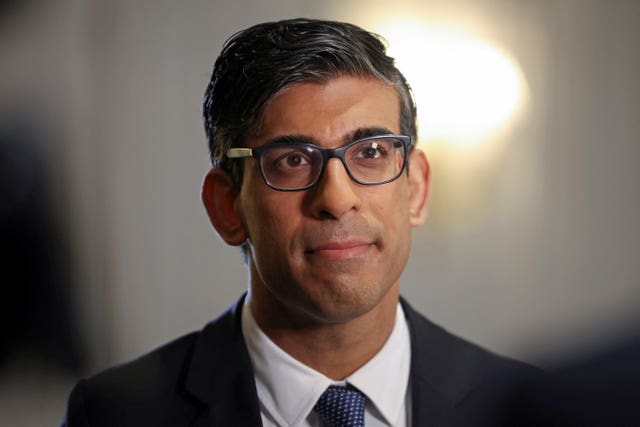 Asked by broadcasters during a visit to Rochdale whether the payment would go ahead, he said: "We've made a very reasonable pay offer worth around 8% on average for teachers, worth up to 13% for new teachers combined with reductions on workload, and for the NEU teaching union to be striking in the face of that and impacting children's education, particularly in the run-up to the exams, is extremely disappointing."
Labour leader Sir Keir Starmer urged teaching unions and the Government to get around the negotiating table to resolve the dispute.
He told LBC: "I am disappointed because I want to see this resolved. Obviously it is back around the negotiating table now but I would urge both sides to compromise and to come to an agreement as quickly as possible."
He added: "Obviously I support their right to take industrial action – it is very important I say that – but I will be clear: I don't want to see industrial action and that is why I want the Government around the table resolving this.
"It is possible to resolve these disputes, and the sooner the Government gets on with that the better."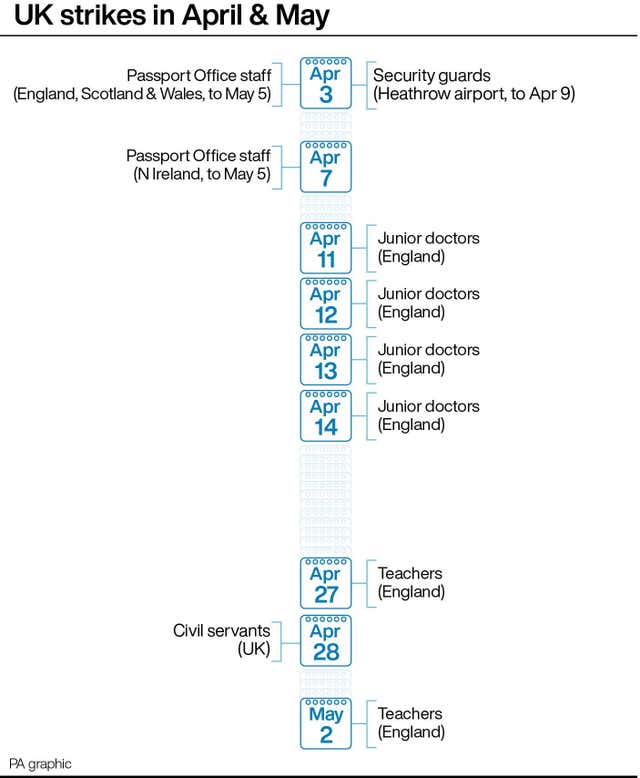 Paul Whiteman, general secretary of the NAHT, said last week that industrial action by school leaders will be "necessary" if NAHT members decide to reject the Government's "inadequate" pay offer.
The NAHT has said it could move to a second formal industrial action ballot if its members turn down the Government's pay offer.
On Monday, the British Medical Association (BMA) announced plans to ballot NHS consultants in England for strike action from May 15 if the Government does not meet its demands over pay.
Passport Office workers have begun a five-week strike in a dispute over jobs, pay, pensions and conditions as a union warned it could cause delays for those looking to renew their passports.
More than 1,000 members of the Public and Commercial Services union (PCS) at eight sites are walking out in an escalation of the long-running row.