The Green Man, an ancient figure from British folklore symbolic of spring and rebirth, is the inspiration behind the design of the King's coronation invitation.
The elaborately decorated artwork – which will be reproduced on recycled card with gold foil detailing – features a colourful abundance of wildflowers and wildlife, with the head of the Green Man as its central motif to celebrate the start of the new reign.
The Green Man appears at the foot of the official invitation for Charles III's May 6 ceremony, crowned in natural foliage and formed of leaves of oak, ivy and hawthorn and the UK's emblematic flowers.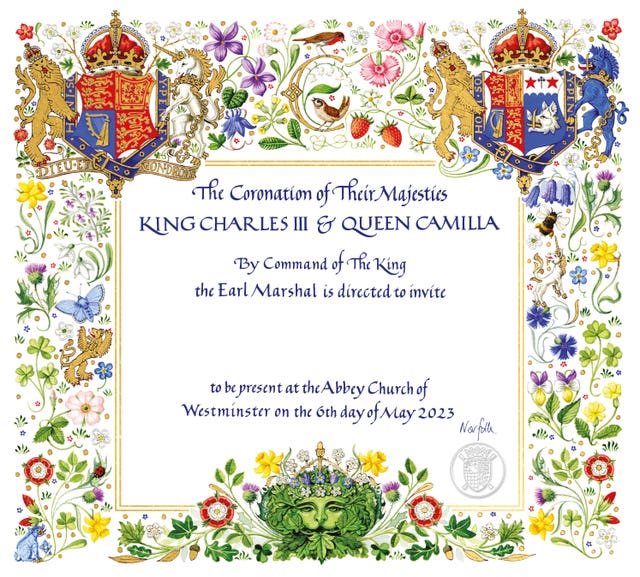 Flowers appear in groupings of three, signifying the King becoming Charles III – the third monarch of his name.
The King is known for his love of nature and his years of campaigning against climate change.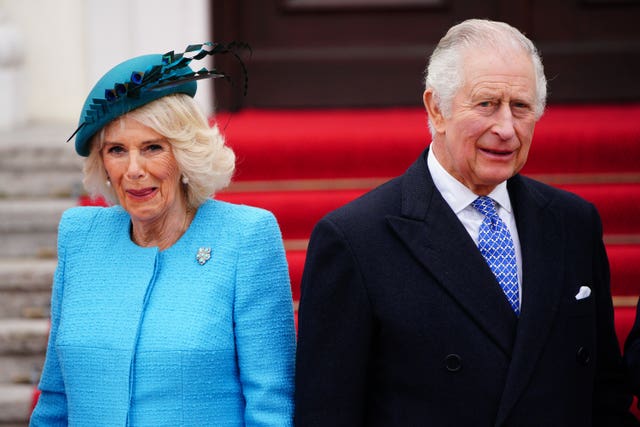 And the wording of the invitation – in a royal blue – features the first official reference to "Queen Camilla" – instead of Buckingham Palace's previous use of "Queen Consort".
Camilla's coat of arms are enclosed by the Garter, following her installation as a Royal Lady of the Order of the Garter last summer.
The invitation was designed by Andrew Jamieson, a heraldic artist and manuscript illuminator, and a Brother of the Art Workers' Guild, of which the King is an honorary member.
In 2011, Mr Jamieson illuminated the Royal Letters Patent issued under the Great Seal of the Realm issuing Prince William with his Duke of Cambridge wedding day title.
The original artwork for the invitation was hand-painted in watercolour and gouache, and the design recalls the Coronation Emblem.
The Green Man is found in many forms throughout history, with some seeing the mysterious figure as something of a trickster.
Although often thought of as a pagan symbol, carvings of the Green Man are commonly found in churches across Europe.
He has been described as being a bridge between Pagan and Christian beliefs.
The King's coronation church Westminster Abbey also features a Green Man – surrounded by leaf decorations on the Quire Screen, which separates the Nave from the Quire.
Mr Jamieson said: "To have been invited to play a small part in such an historic event in our nation's history has been an incredible honour and the opportunity of a lifetime, the pinnacle of my career.
"My hope is that those who see the invitation will get as much joy from it as I did creating it. I wish Their Majesties every good wish for their upcoming Coronation celebration as they begin this new journey together."