Schools in England face five days of teacher walkouts in the summer term and possible action into the autumn as the UK's largest education union is set to re-ballot members in a dispute over pay.
Delegates at the National Education Union's (NEU) annual conference have voted in support of a three-day strike in late June/early July.
It comes after the union announced two further strike days on April 27 and May 2 after 98% of NEU members, who responded in a consultative ballot, voted to turn down the Government's pay offer.
A motion, passed at the union's conference in Harrogate, also called on the executive to use the exam period next month to begin a re-ballot of teacher members in England on further industrial action later this year.
After a period of intensive talks with unions, the Government offered teachers a £1,000 one-off payment for the current school year (2022/23) and an average 4.5% pay rise for staff next year (2023/24).
The Government's pay deal was described as "paltry" and "inadequate" by delegates at the NEU's conference.
The urgent motion on pay, passed at the conference on Tuesday, says it is "vital" that the union plans "a programme of escalating strike action, political lobbying and community campaigning that can bring the maximum social weight to bear on the Government throughout the summer term, and beyond".
"Escalation would either involve a greater number of consecutive days than previously or more frequent strikes," the motion says.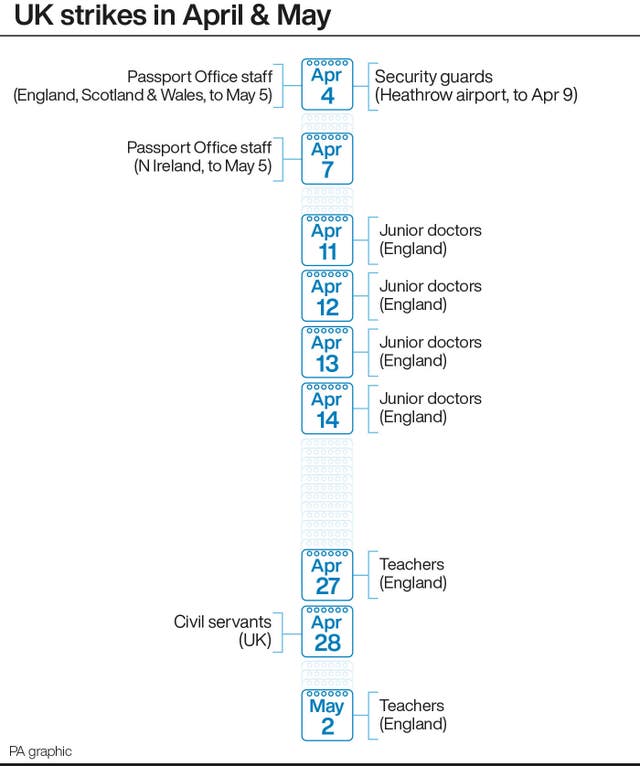 Many schools in England were forced to partially or fully close during strikes staged by the NEU in February and March as a result of a dispute over pay.
Delegates at the conference voted against an amendment of the motion which called for four further strike days to be held during the exam period in May and June this year.
Members voiced concerns that disrupting pupils' exams would lead to a decline in support for the union's campaign on pay.
Thomas Hoskins, from West Kent, told conference: "We must continue to remind parents that we are trustworthy. For 14 years they send us their most precious people in their lives to nurture, to care for and to inspire.
Kevin Courtney, joint general secretary of the NEU, said: "As this Education Secretary appears not to care about the run-down and demoralised education system, the NEU will be stepping up our campaign for fair pay for teachers."
He added: "If the Government does not resolve the current pay dispute the NEU will re-ballot members for a renewed mandate for further industrial action in the next academic year.
"Wales and Scotland have both reached settlements on teacher pay. It is about time that the Westminster Government gets serious and gets back round the table to resolve this dispute.
"What has been offered so far is clearly nothing short of insulting as our ballot showed, with an overwhelming 98% of teacher members in England rejecting the offer."
Downing Street said the Government has "no plans" to make an improved offer after the existing one was rejected.
Members of the NASUWT teaching union, the Association of School and College Leaders (ASCL) and the National Association of Head Teachers (NAHT) have also been asked for feedback on the pay offer.
Overall, 87% of ASCL members, who took part in a survey on the pay offer, voted to turn down the deal. The turnout was 56% in the consultative ballot.
The ASCL's executive committee will reconvene after the Easter break to consider its next steps.
Geoff Barton, general secretary of the ASCL, said: "We are aware that there will be speculation about whether we will move to a formal ballot on industrial action, a step we have not yet taken because we have been focused on trying to resolve this situation through negotiation.
"This is certainly an option that will be discussed but we would emphasise that no decision on this front has been taken in either direction."
A Department for Education (DfE) spokeswoman said: "After costing children almost a week of time in the classroom and with exams fast approaching, it is unforgiveable that the NEU are re-balloting for more strike action up until Christmas this year."
She added: "The offer was funded, including major new investment of over half-a-billion pounds, and helps tackle issues teachers are facing like workload.
"NEU and ASCL's decision to reject this offer will simply result in more disruption for children and less money for teachers today."