The UK's new car market has grown for eight consecutive months, figures show.
Some 287,825 new cars were registered last month, up 18.2% on March 2022, the Society of Motor Manufacturers and Traders (SMMT) said.
The increase was attributed to an easing of global supply chain shortages.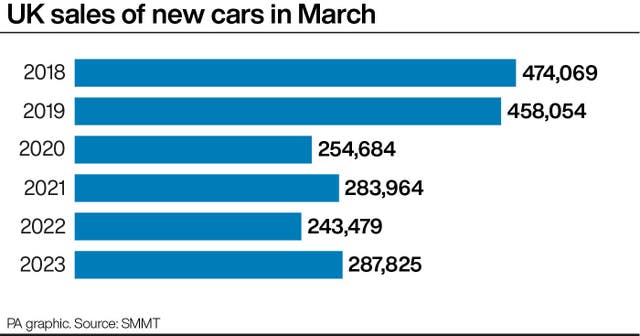 Deliveries to private buyers were up just 1.4%.
March is viewed as a bellwether of the automotive industry's performance as new number plates are introduced, traditionally leading to an increase in demand.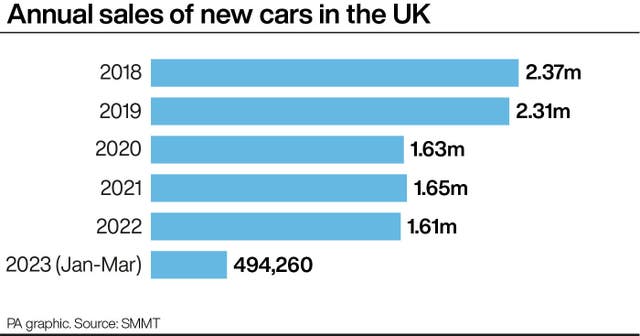 "With eight consecutive months of growth, the automotive industry is recovering, bucking wider trends and supporting economic growth.
"The best month ever for zero emission vehicles is reflective of increased consumer choice and improved availability, but, if EV market ambitions and regulation are to be met, infrastructure investment must catch up."
March was the largest month on record for registrations of pure battery electric new cars, with 46,626 deliveries.
But Ian Plummer, commercial director at online vehicle marketplace Auto Trader, said the "positive" headline numbers "mask a worrying decline" in demand from private buyers.
He said: "Recent sales growth has been driven by the fleet sector, but early indicators on our marketplace suggest a dampening in appetite for new cars as the cost-of-living crisis bites the market.
"Visits to Auto Trader's site were up 17% on last year in March and new car stock rose by almost a third (30%).
"But the volume of consumers viewing new car adverts and inquiring about new cars are down more than 12% and 40% respectively.
"Currently, almost all (93%) of new car sales are bought on finance, so we suspect rising interest rates are to blame."