Rishi Sunak has lost control of his own MPs, Labour leader Sir Keir Starmer said after a Tory MP was caught offering to lobby on behalf of a gambling company.
Sir Keir claimed that Blackpool South MP Scott Benton had showed "flagrant disregard" for the rules MPs were expected to follow.
Mr Benton had the Conservative whip suspended after undercover footage showed him offering to lobby ministers on behalf of gambling investors in exchange for money.
The investigation by The Times newspaper found he was willing to leak sensitive information to a bogus investment fund and ask parliamentary questions on its behalf, in breach of parliamentary rules.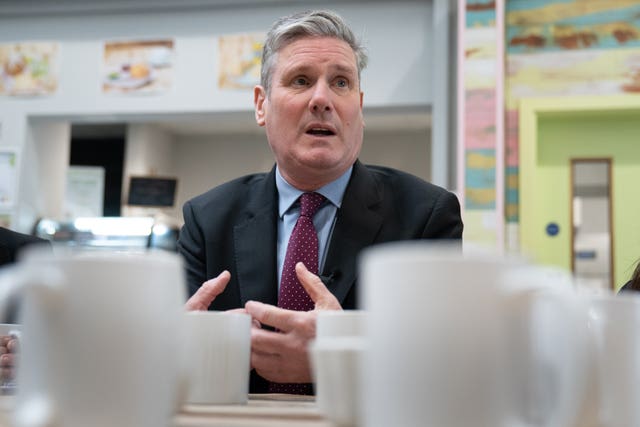 The Labour leader emphasised the importance of transparency for MPs and the need to follow hospitality rules, adding: "With Scott Benton, as we have seen, it is flagrant disregard of those rules and those principles."
Referencing a sting by political campaign group Led By Donkeys, Sir Keir said: "It is not a one-off. Only a few weeks ago we saw three other Tory MPs looking after lucrative jobs, thousands of pounds at the time, for their apparent advice."
Sir Keir also suggested he would back tighter gambling regulations, after reports that under-25s could be prevented from spending more than £2 a spin on slot machines.
The Government is currently carrying out a major review of gambling laws, mulling stricter regulations that could affect operators' profits.
"We do think regulations need to be tightened. We will look at what the Government puts forward," the Labour leader said.
Shadow culture secretary Lucy Powell meanwhile criticised the chaos around reforms to gambling laws.
She said: "We urgently need to update analogue gambling regulation so it is fit for the digital age, yet the Conservatives' failure to govern means we are still waiting for proposals to be published and debated in Parliament."
Mr Benton's actions had earlier earned the condemnation of a minister.
Transport minister Richard Holden told Times Radio: "This behaviour is totally unacceptable and I am glad that it is now going to be thoroughly investigated, all the claims made, and will be properly looked into."
Asked whether an MP's actions could get any worse than offering to leak confidential documents, Mr Holden curtly replied: "No."
When pressed that Mr Benton was a Conservative MP, the minister added: "He's not any more."
The body representing lobbyists, meanwhile, said the red wall MP should now consider his position.
Alastair McCapra, CEO of the Chartered Institute of Public Relations (CIPR), said: "It is hugely frustrating to read of yet another MP who apparently believes they can use their position to act on behalf of an external body for payment."
He added: "This country has moved on from the days of who-you-know-politics and it is frankly unethical and disingenuous to the public as well as to businesses who have a legitimate reason to have their voice heard by Government to be told otherwise.
"Mr Benton should apologise and consider his position."
Mr Benton was caught on camera telling undercover reporters posing as investors how he was willing to take actions which would break Parliament's lobbying rules.
Under those rules, MPs are forbidden from advocating a particular matter in the House or raising it with ministers in return for payment.
They are also prohibited from serving as a paid parliamentary adviser or consultant or guiding firms on ways to influence Parliament.
In a meeting in early March, Mr Benton described how he could support the fund, which he believed was set up by an Indian businessman looking to make investments in the UK betting and gaming sector, by attempting to water down proposed gambling reforms.
He also offered a "guarantee" to provide a copy of the upcoming gambling White Paper to the business at least two days before publication, potentially allowing it to benefit from market sensitive information.
The MP agreed with a fee proposed by the reporters in the range of £2,000 to £4,000 a month for two days' work.
Alongside his suspension, which means he no longer sits as a Tory in the Commons, Mr Benton has referred himself to the Parliamentary Commissioner for Standards.
Another Conservative MP, Philip Davies, claimed he was also contacted by the fake company set up by the Times but did not fall for the sting.
The Shipley MP told GB News he thought there was something "very fishy" about the company, adding: "I went there knowing in my own mind this was a fake company who were just trying to do a sting.
"By the time the meeting had finished, I wasn't so sure anymore that they were a fake company. They were very, very good."
Separately, Conservative former minister Lord Swire has been made the subject of an inquiry by the House of Lords Commissioners for Standards' Office.
Lord Swire, formerly the Conservative MP for East Devon, is under investigation for "alleged non-registration of interests leading to potential breaches" of the House of Lords code of conduct.