The political vacuum in Northern Ireland is not to blame for an increased threat from dissident republicans, Sir Jeffrey Donaldson has said.
The PSNI has warned of the potential of dissidents launching attacks on their officers in Londonderry on Easter Monday.
But Sir Jeffrey said the idea that the collapse of the powersharing institutions had fuelled violence "doesn't stack up".
"While Stormont was sitting for many years these dissident republicans engaged in violence, they murdered police officers," he told BBC Radio Four.
"Of course we want to see Stormont fully functioning, but the idea that when we get Stormont back up and running, that dissident republicans will put their guns away, I didn't hear the Chief Constable (Simon Byrne) suggest that.
"The idea that evil men and women who go out to commit murder react to political circumstances simply doesn't stack up.
"Some of the Chief Constable's police officers have been murdered by these dissident republicans while Stormont has been sitting and indeed they have murdered other people and they have continued with their terrorist activity during all of the period that Stormont was sitting.
"All of the party leaders have stood together in solidarity with the Chief Constable when these attacks have taken place."
MI5 recently raised the terrorism threat level in Northern Ireland to severe, meaning an attack is highly likely.
This followed the gun attack on senior detective John Caldwell in Co Tyrone, who has been left with life-changing injuries.
Police have blamed the New IRA for the attack.
Mr Byrne said that more officers would be moved to frontline duties to counter any potential threats.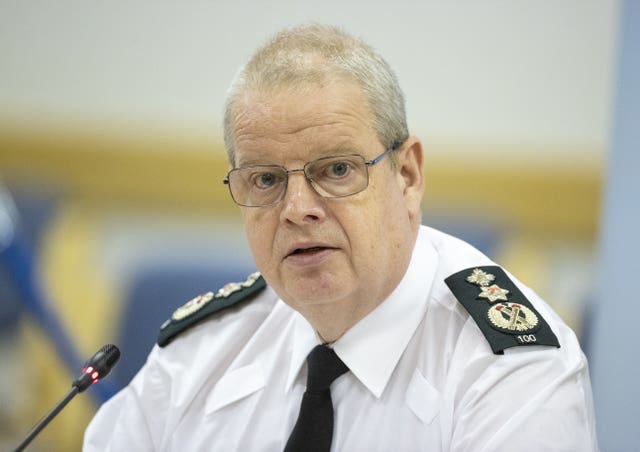 Earlier this year, the UK Government and EU unveiled the Windsor Framework to mitigate some of the trading difficulties which had been caused by the Northern Ireland Protocol.
While the DUP says the framework has gone some way to address its concerns, it feels some significant problems remain and has made clear its boycott will continue until it secures further assurances.
Sir Jeffrey said his party would be considering a report within the next few days from a consultative panel he established on the framework.
He said: "It was in Washington that I gave the response, I indicated that there were a number of major areas of concern that we had about the Windsor Framework, that we were engaged in a consultation process.
"We consult with our people, we talk to our people, we listen to their views.
"I now have the report from our consultation panel.
"They have consulted widely with business, with people in the community, we have got that report.
"We will consider that report in the next few days and then we will go to the Government with the outcome of our consultation and we will press the government on the need to bring forward the legislation they have promised to protect Northern Ireland's ability to trade within the United Kingdom and to restore our place within the UK.
"That is the key to unlocking the door to Stormont."
Former Sinn Fein leader Gerry Adams has said the DUP should be given "a limited amount of time" to make a decision on the Windsor Framework, but if the party does not return to Stormont the British and Irish governments should step in.
Speaking to RTE, Mr Adams said the Good Friday Agreement provided for a British and Irish intergovernmental conference.
"It's rarely been called, the Irish government have not been proactive on it.
"It deals with non-devolved matters, issues pertinent to our current situation."
However, he claimed Sir Jeffrey "knows" that his party will return to power-sharing.
"Basically, he's refusing to go into an Assembly over an issue which the Assembly has no responsibility for, or authority over, and can do very little about."