A tree scientists believe may hold the key to giving food security to millions of people across east Africa has flowered for the first time at Kew Gardens.
The Ethiopian enset will produce a spectacular bloom, which could reach up to two metres in length as well as sprouting banana-like fruit.
It is one of two specimens that arrived at the botanical garden in 2019, when it measured just 30 centimetres tall.
However, botanists have urged the public to see the plant while they can as it is monocarpic, meaning it will die once it has finished flowering.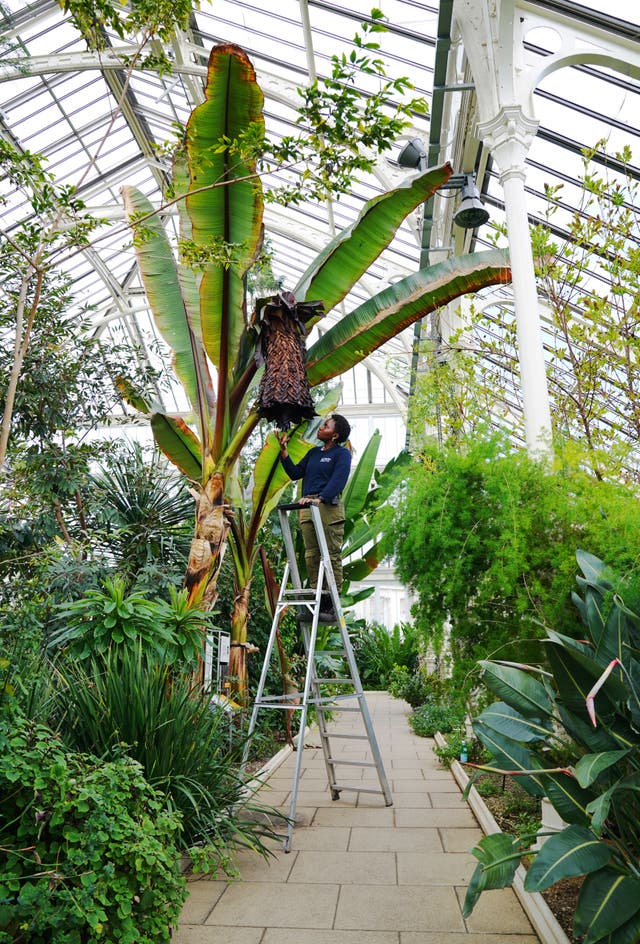 "Seeing the enset in flower now is a sombre reminder that its time with us is coming to an end, but also a testament to the wonderful work our horticulturists and scientists carry out to learn more about the natural world and to protect this planet's biodiversity," he said.
Horticulturists introduced the enset into the South Octagon of the Temperate House in 2020 once it had grown to 1.5 metres in height.
Just one year later, the plant was large enough to be moved into a permanent display in the south beds, where it has towered over visitors ever since.
The Ensete ventricosum – also known as the Ethiopian banana, the Abyssinian banana, or even the false banana – is a close relative of the banana tree.
Enset plants can grow as tall as 10 metres, and just 15 of them can feed a person for an entire year, leading Kew experts to give it the nickname the "tree against hunger".
It is widely distributed across Africa, although has only ever been used as a crop in parts of Ethiopia, where it is thought to feed around 20 million people a year.
The botanical garden's scientists believe the enset could become a "climate-coping strategy" if it was farmed more widely in drought-prone regions of Ethiopia, as well as in nearby countries such as Kenya and Uganda.
Its banana-like fruits are filled with huge black seeds that make them almost impossible to eat. Other parts of the plant are made into starchy pulp, which is then fermented in a pit for up to 12 months to make a bread-like food called kocho.
Dr James Borrell, research leader in trait diversity and function at Kew, said: "Not many people have heard of enset out of Ethiopia, and that's a shame, because this truly remarkable plant is a vital source of nutrition for millions of subsistence farmers across the region.
"Enset has a unique set of characteristics that set it apart from other familiar crops: most importantly, it's a perennial and can be planted and harvested at any time.
"As a result, farmers can treat enset as a 'green asset' to buffer against food shortages when other crops fail or are otherwise unavailable, much like a bank account for food."
Kew Gardens attracts more than 2.5 million visits every year, and was made a Unesco World Heritage site in 2003. It celebrated its 260th anniversary in the same year that the enset plant arrived at the nursery.
The Millennium Seed Bank Partnership, which has stored more than 2.4 billion seeds from more than 40,000 wild species, is one of the organisation's most important collaborative international projects.