US President Joe Biden has said the UK should be working more closely with the Irish Government to support the people of Northern Ireland.
Mr Biden also claimed "hundreds" of US corporations were ready to invest in Northern Ireland but were "cautious" about the lack of devolved government in the region.
Devolution is in cold storage at Stormont due to a political impasse over post-Brexit trade.
In a speech to the Irish parliament in Dublin, the US president touched again on themes he focused on in an address in Belfast on Wednesday when he expressed hopes of a return to powersharing and insisted stable governance at Stormont could deliver an economic windfall for the region.
During his trip to the island of Ireland, White House officials have dismissed claims made by some unionist politicians that the US president is anti-British.
The UK Government also moved to explain why Prime Minister Rishi Sunak did not play a more prominent role in Mr Biden's short visit to Northern Ireland on Wednesday.
In his historic address to both houses of the Oireachtas in Dublin, Mr Biden said more work was needed to nurture Northern Ireland's peace.
"Peace is precious. It still needs its champions. It still needs to be nurtured," he said.
"Yesterday I was in Belfast to honour those who commit themselves to peace, to reiterate the enduring support of the United States to the Good Friday Agreement and Northern Ireland's democratic institutions and help accelerate the economy, economic growth that is opening new futures for young people in Northern Ireland.
"As I pointed out, there are literally hundreds of American corporations ready to come and invest but they are cautious because the institutions are not in place."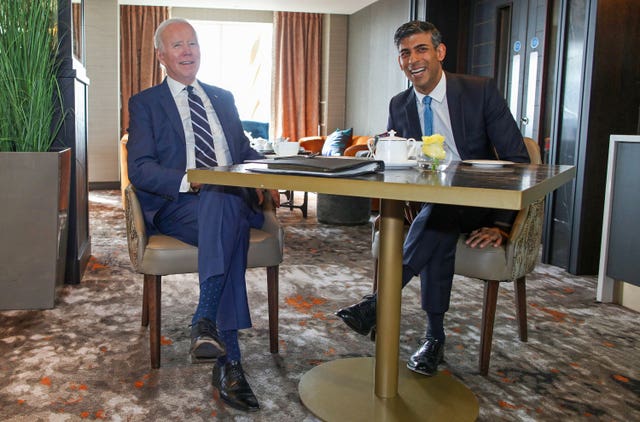 Reflecting on discussions with Taoiseach Leo Vardakar on the political situation in Northern Ireland, Mr Biden spoke of "how Ireland and the United states can work together with the United Kingdom and the European Union to support the people of Northern Ireland".
He added: "I think that the United Kingdom should be working closer with Ireland in this endeavour. Political violence must never be allowed again to take hold on this island."
In Wednesday's keynote address at Ulster University in Belfast, Mr Biden praised the work of the UK and EU to strike the Windsor Framework on post-Brexit trading arrangements.
The president's visit to Northern Ireland came as the region marks the 25th anniversary of the landmark Good Friday peace accord that created Stormont's powersharing institutions.
The DUP is blocking those institutions in protest at Brexit trade barriers between Great Britain and Northern Ireland. It has said the framework does not go far enough to address its concerns over sovereignty.
On Thursday, Dail speaker Sean O Fearghail referenced the fact that Mr Biden had not spoken at Stormont, as he welcomed the Northern Ireland Assembly's speaker as an invited guest at Leinster House.
He said: "From north of the border we also welcome Alex Maskey, speaker of the Northern Assembly, which I'm sure you would've liked to have been able to address."
Sinn Fein Stormont leader Michelle O'Neill, Alliance Party chief Naomi Long and SDLP leader Colum Eastwood attended Thursday's address in the Dail.
No unionist politicians from Northern Ireland accepted invitations to attend.
Earlier, Mr Varadkar rejected claims that Mr Biden is anti-British.
MP Sammy Wilson claimed the president "has got a record of being pro-republican, anti-unionist, anti-British", while former first minister Baroness Foster suggested he "hates the UK".
After meeting Mr Biden in Dublin on Wednesday afternoon, Mr Varadkar was asked about the "anti-British" suggestion.
"I don't agree with that assessment, that's certainly not my experience of President Biden or his administration," he said.
"They're very keen to have a strong and special relationship with the United Kingdom and that, of course, goes back to their own history, and also the fact that they fought two world wars, side by side.
"We should never underestimate the strength of the UK-American relationship, and I know that President Biden and his administration are committed to that special relationship, but he is somebody who identifies as Irish-American, who is proudly Irish, and takes an interest in Irish affairs, and his only interest really is to see not just peace sustained in Northern Ireland, but also… the institutions up and running.
"Because people and politicians come and go, it's institutions that underline and make sure that democracy and freedom and prosperity last for generations.
"I don't feel he is pushing any particular agenda other than what he thinks is best for the people of Northern Ireland and the people of Ireland as a whole."
"Definitely something that I need to speak to the Prime Minister about before speaking in public, but plan A is the only plan we have at the moment, and that is to get the Good Friday Agreement working as envisaged, have the five parties form an executive – four of them want to, one doesn't," he said.
"I think it is possible to get the DUP on board and then, not only crucially have the powersharing institutions up and running in Northern Ireland, but also the North-South bodies which are very important too."
Mr Varadkar also said Northern Ireland can benefit from US investment if it establishes political stability.
"I think what's envisaged is investment by the US private sector, by American companies in Northern Ireland," he said.
"I think if there is stability in Northern Ireland, if there's predictability about the trading arrangements and the political situation there, Northern Ireland can benefit from that investment too."
Earlier, UK minister Chris Philp defended Mr Sunak's movements on Wednesday amid criticism that the bilateral meeting between the Prime Minister and the US president appeared to have been scaled back to a less formal conversation over a cup of tea.
Touring broadcast studios on Thursday, the minister was asked why Mr Sunak had missed the president's speech at the Ulster University campus after meeting him in the morning.
"I don't know exactly what the Prime Minister's schedule was," he told GB News.
"I haven't discussed it with him or No 10. Of course they did have extensive discussions in Belfast yesterday before President Biden's speech."