Joe Biden sought the endorsement of Irish hearts and minds in Co Mayo on Friday, in return granting the presidential seal of approval to the county's decades-long search for footballing glory.
When the US president concluded his remarks with the words: "Mayo for Sam", it brought to close a homecoming that had all the flavour of a GAA All-Ireland celebration.
As anticipation built in the small town of Ballina, crowds queued for several hours down towards the Moy riverfront and St Muredach's Cathedral that framed the US President's speech.
The rain became a running joke, interspersing the acts and introductions – from The Chieftains to former Irish president Mary Robinson – that all built-up to Mr Biden's arrival.
After a helicopter swept over the heads of the crowd and Taoiseach Leo Varadkar hailed him as "most Irish of all American presidents", the octogenarian president swept onto the stage more like a rock star than GAA star – to the sound of Dropkick Murphy's I'm Shipping Up From Boston.
But from there, the president – in the folksy fashion that has defined his visit – was keen to stress his humble roots in the Irish town.
He referenced ancestor Edward Blewitt and his toils in the old Ballina brickyard and role in the construction of St Muredach's Cathedral.
"As he laboured, I'm sure he would imagine that one day his family would worship here, that his children would be baptised here like his son Patrick was, and that future generations of his family would mark the milestones of their lives here in the sturdy walls, but I doubt he ever imagined his great-great-great grandson would return 200 years later as president of the United States of America," he said.
There were cheers and whoops from the crowd through the speech, which stretched across the sweeping Ballina riverfront and at times appeared like a sea of waving American and Irish flags.
His Mayo heritage, as much as the river and cathedral, provided the scenery for the address.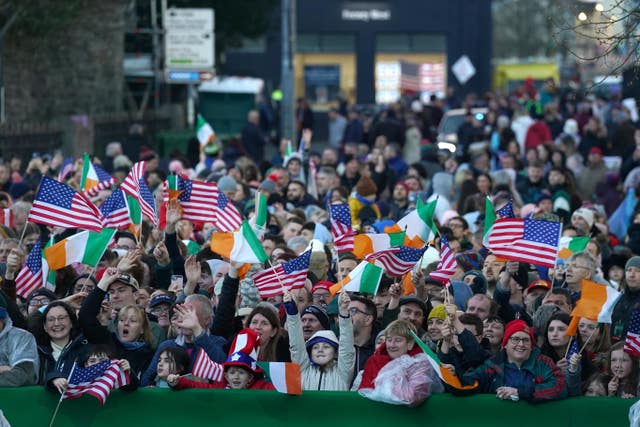 He said: "My friends, people of Mayo, this is a moment to recommit our hearts, our minds, our ardent souls to the march of progress.
"To lay the foundation brick by brick by brick, for a better future for our kids and our grandkids, one of greater liberty, opportunity and dignity just like our ancient ancestors did for us.
"I've never been more optimistic and I've been doing this a long time."
Mr Biden will return to the US now with plenty of memories of Mayo and his Irish visit.
In the west of Ireland too, long after the buntings and flags are gone, the late-night mission statement from Washington to Ballina will surely resonate for a long time to come.