Unionism needs to "give itself a shake" as part of efforts to restore government at Stormont, former Sinn Fein leader Gerry Adams has said.
Mr Adams joined former taoiseach Bertie Ahern and Tony Blair's one-time chief of staff Jonathan Powell for a press conference at the Agreement 25 conference, marking the anniversary of the Good Friday Agreement in Belfast.
All three spoke of their hopes the Stormont powersharing institutions would return, with Mr Ahern imploring parties to sit down together.
Mr Adams said he would be loathe to tamper with the institutions of the Good Friday Agreement, which helped to deliver peace to Northern Ireland in 1998.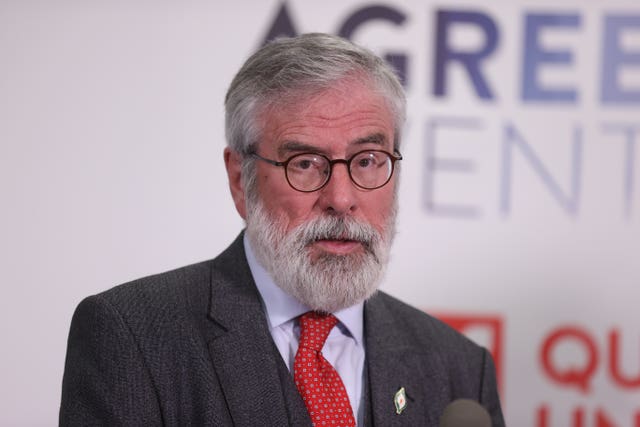 "I'm fairly mindful that there are huge challenges in all of this."
He added: "I think that unionism needs to give itself a shake, generally speaking.
"They might be opposed to what is going on but we now have a way of being opposed to each other peacefully.
"Get into the institutions and then argue it out, revise, review, whatever you want, but in the first place go to where you were sent by the electorate."
The Stormont Assembly and Executive are currently not operating as part of a DUP protest against post-Brexit trading arrangements.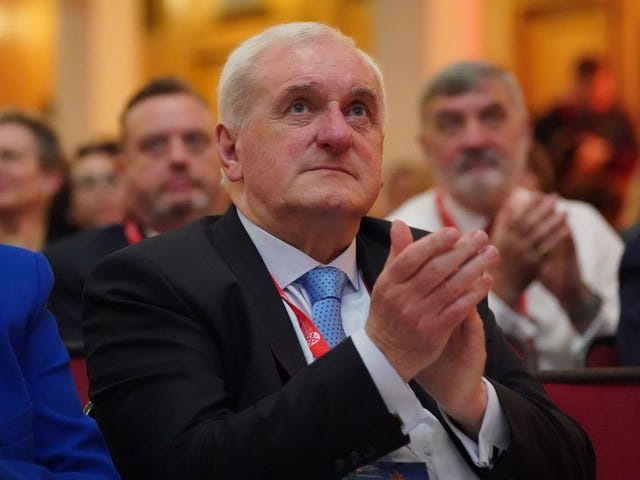 "We dealt with huge issues, we were trying to deal with the constitutional issues, trying to set up the institutions, reforming the old RUC … demilitarising Northern Ireland, changing all the legislation that was there because of years of the conflict.
"Now what you need is to find a mechanism where the institutions can set up and then I think there should be discussion, whether you call it review or not, of how to make sure they don't come down again except when their term of office is fulfilled.
"That requires parties to sit down, mainly the DUP but I'm sure other parties are all willing to help them to get across that road.
"The sooner the better. The one thing that concerns me is that status quos don't work."
He added: "You can't wait around forever. You can't have elections to institutions a year ago and then nothing happens."
He said: "The problem wasn't the Good Friday Agreement, the problem wasn't the St Andrews Agreement, the problem was Brexit.
"It put a coach and horses through that, what is going on now is a repair process.
"I don't think you can blame it on St Andrews or anything else."
Mr Powell added: "It is about having the political will to go ahead and get these institutions up and running.
"The DUP have not said no (to the Windsor Framework), they are still looking at it.
"Hopefully they will say yes and we will get the institutions up and running."