The Prime Minister has been "completely absent" from dealing with the long-running NHS pay dispute, the shadow health secretary has said.
Speaking during a visit to a care centre in Chesterfield, Wes Streeting urged Rishi Sunak to intervene to bring an end to the deadlock between the Government and health unions.
The Labour frontbencher said ministers – not striking NHS staff – will be to blame for any disruption caused by the ongoing industrial action.
He told reporters: "I think at this point the Prime Minister has got to step in. He's been completely absent.
"I think that's what's desperately needed today."
A Labour government would get round the table and talk rather than stonewalling the unions, he said.
"I don't blame staff who voted for going on strike. I think they are desperate. This is a cry for help.
"I welcome the fact that junior doctors and nurses have said they're willing to compromise, but they need someone to negotiate with."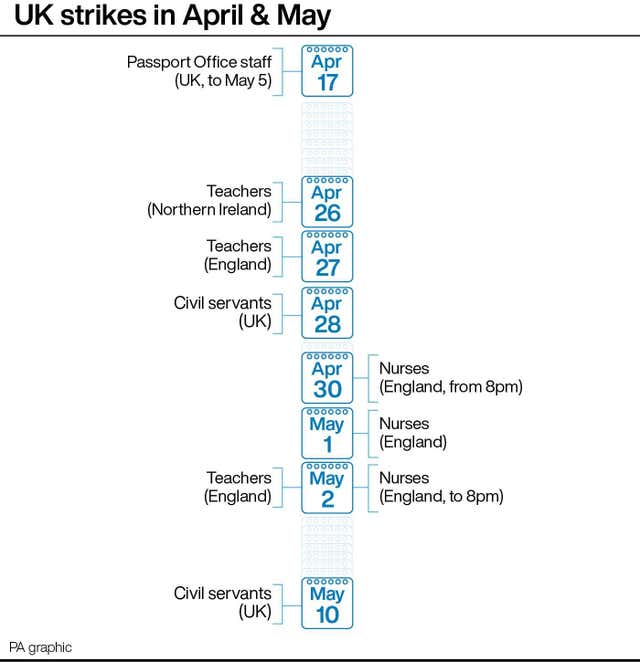 Mr Streeting branded the figures "absolutely outrageous" and called on the Government to "apologise to children and their families for 13 years of abject failure to support their mental health and wellbeing".
"We can't let children suffer like this," he said.
The shadow minister's comments come as bitter rows over pay and working conditions rumble on between health unions and the Government.
The Royal College of Nursing (RCN) is set to return to the picket line after rejecting a pay offer while the British Medical Association's junior doctors remain locked in a separate dispute over wages.