Extinction Rebellion (XR) has warned ministers it will step up its campaigns in "new and inventive ways" if they do not agree to two demands ahead of a major four-day climate protest in central London.
Climate protest group XR; Global Justice Now, a democratic social justice organisation; Don't Pay UK, a grassroots campaign opposing the rise in energy bill; and the PCS union have called on the Government to "end all new licences, approvals and funding for fossil fuel projects".
They also want ministers to "create emergency citizens assemblies to lead on fair, long-term solutions to the most urgent issues of our time".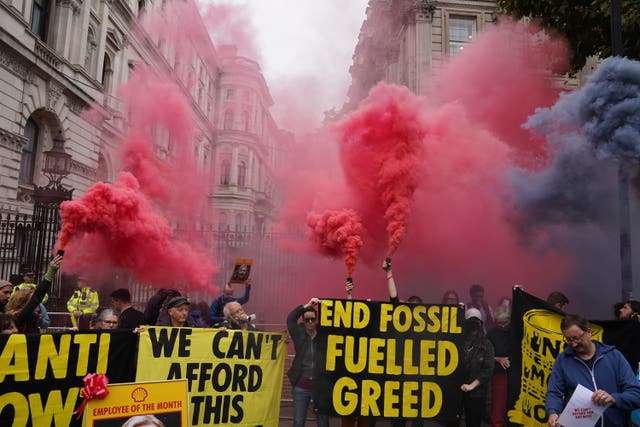 "They have seven days to agree to enter negotiations around these two demands or we will step up our campaigns in new and inventive ways, working towards a coalition unprecedented in size."
She said the Government has until 5pm on Monday April 24 "to agree to enter negotiations about the two collective demands that we have presented to them today".
Ms van de Geer added: "If we don't get a response, at 10am on Tuesday April 25 Extinction Rebellion will build an unprecedented coalition, stepping up our campaigns in the weeks and months ahead along three pathways – that is to picket to stand in solidarity with the strikers, to organise locally and to disobey."
The ultimatum comes ahead of a planned four days of action dubbed "the big one", which will see people from a coalition of groups and movements gather in Westminster and outside the Houses of Parliament from Friday April 21 to Monday April 24.
More than 200 organisations are supporting the action, including Greenpeace, Friends of the Earth and PCS Union, XR said.
She said "the big one" will "be a period of connecting and music and dance but also it is a four-day coming together of over 200 groups with memberships totalling millions of people in this country and globally to decide what more radical action would look like for them".
She added: "So across these four days everyone will deliberate on what comes next if the Government refuses this major opportunity to engage with our demands, because we all agree the clock is ticking for every human and non-human alive today and none of us should and will sit quietly while time runs out."
More than 28,000 people have signed up to attend during the four-days of protest but XR believes the turnout may be higher, Ms van de Geer said.
"So we just want to really highlight that the four days of the big one are not intended as public disruption," she added.
"We will be using forms of deliberative democracy, deliberating with each other, exchanging ideas, learning from each other, listening, especially.
"So there's not going to be any intention over those four days to disrupt the public.
"Of course, having 30,000 people in the Westminster area may cause some logistical disruption, and there is of course also the London Marathon happening as well, so it is going to be nice and busy in central London over the weekend."