Tanaiste Micheal Martin has affirmed the Irish government's commitment to working with the UK Government to guarantee the Good Friday Agreement.
Speaking at Queen's University Belfast alongside Northern Ireland Secretary Chris Heaton-Harris, the Irish deputy premier said the UK and Irish governments had a shared responsibility to the agreement.
The Good Friday Agreement includes provisions for a north/south ministerial council and a British-Irish council to promote co-operation between both governments and the Northern Ireland Executive.
"This anniversary of the agreement is a reminder that our shared responsibility, our role as co-guarantors, is not a matter of party, policy or preference, it is a solemn responsibility on our two governments, a treaty responsibility enshrined in the 1998 British-Irish agreement," he said.
"It is no secret that our two governments have not always acted in concert at all times in recent years. Even today, there are areas where we disagree fundamentally, such as on the Legacy Bill.
"But I am delighted to say that our partnership is manifestly better now than it has been for quite some time.
"Of course, like everything else of value, it needs continued care, commitment and investment."
Mr Martin also said his government is committed to all-island co-operation.
"This is a small island, regardless of your constitutional preference, it is a shared space," he said.
"The geography won't change and there are things that it makes sense to do on an all-island basis."
The Stormont government is currently not operational due to the DUP's protest against post-Brexit trading arrangements.
Mr Martin called for the return of devolved government, saying the UK Government "stretched themselves" to achieve the Windsor Framework.
"The past few years, with the practicalities of Brexit, have been turbulent for Northern Ireland, and for these islands," he said.
"The European Commission and the UK Government stretched themselves in recent months to reach an accommodation that works for Northern Ireland.
"I know that turbulence will take some time to settle, that parties need to pause and reflect internally on next steps.
"But I urge all elected officials to take their seats in the Assembly and the Executive and get to work on the questions of everyday life that matter to the people of Northern Ireland, including healthcare, education, policing, regional imbalances and much more."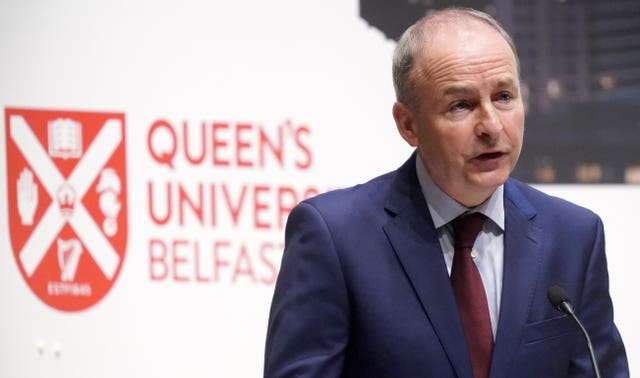 "Let us recapture and renew that generous spirit of the agreement," he said.
"Let's make the effort again to see this place and see what has happened through the eyes of those we don't agree with.
"When we do, I am certain that we will recognise the potential of the opportunity before us.
"The potential of a decade of investment and renewal, the potential of our young people when they are given an education and the chance to thrive, potential that we dare not squander."