Protesters who attempted to stop the Grand National by gaining access to the racecourse have alleged they were "brutalised" by police.
More than 100 people were arrested and the steeplechase was delayed on Saturday after activists from campaign group Animal Rising attempted to scale fences around Aintree Racecourse, with some accessing the track and trying to glue themselves to fences.
In a video posted on the group's social media, those involved alleged they had been pepper-sprayed, grabbed, sworn at and laughed at by officers.
One man, with his arm in a sling, said: "He just poleaxed me, flattened me to the ground, hit me on this side and that fractured my collarbone."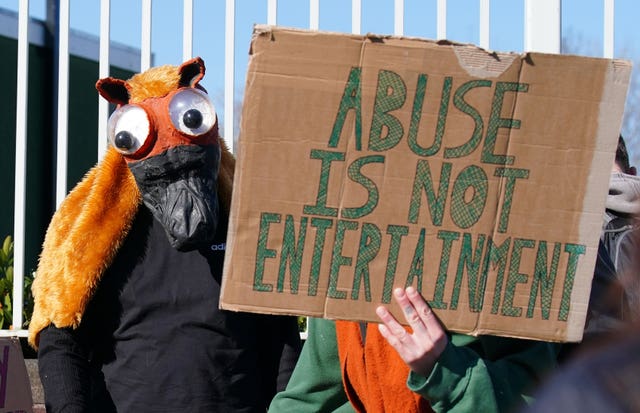 Other allegations included: protesters were not read their rights; a demonstrator was attacked by a security dog; one man who got onto the course lost consciousness after being "choked" by a security guard and was then carried away by police.
A caption on the video said: "On Saturday, we took peaceful action at the Grand National, to save lives and bring about a kinder world.
"In response, we were brutalised by police and private security, we've experienced broken bones, dog bites and pepper spray. Is this what democracy looks like?"
Merseyside Police said no complaints had been received by its professional standards department.
A spokesman said: "The footage shown live on television on Saturday April 15 demonstrated the professionalism of our officers as they dealt with a co-ordinated protest involving large groups of people attempting to encroach onto the racecourse at Aintree.
"Despite the whole site covering an extensive perimeter of around five kilometres, our officers, with the assistance of security staff and members of the public, were able to deal with the challenging situation in a safe and appropriate manner.
"Merseyside Police is aware of a video posted online showing a number of protesters making claims following their arrests on Saturday.
"As of today (Wednesday April 19), Merseyside Police's professional standards department has not received a complaint in relation to any of these claims.
"If we do receive any complaints in relation to this matter, they will be reviewed thoroughly in accordance with the Police (Complaints) Regulations 2020.
"We respect the right to a peaceful protest and expression of views, but criminal behaviour and disorder will not be tolerated and sadly this is what took place at the Grand National on Saturday in an attempt to disrupt the race, which resulted in the arrests."