Peace and prosperity in Northern Ireland go together, a conference marking the 25th anniversary of the Good Friday Agreement has been told.
US special envoy to Northern Ireland Joe Kennedy III said American companies considering investing in the region want certainty for the future, adding the sooner they have clarity the better for the economy.
His comments echo those of US President Joe Biden last week when he said hundreds of US investors were poised to invest but were cautious due to the lack of powersharing executive at Stormont.
Mr Kennedy's remarks come ahead of an address by Prime Minister Rishi Sunak to close the three-day conference to mark the anniversary of the 1998 peace accord which largely brought an end to the Troubles in Northern Ireland.
Irish premier Leo Varadkar and European Commission President Ursula von der Leyen will also address the conference on Wednesday.
While celebrating the achievement of the 1998 accord, the conference has also seen repeated words of encouragement to restore the Stormont Assembly, which has been collapsed for the last year amid a DUP boycott over post-Brexit trading arrangements.
Mr Kennedy, whose remit as envoy is focused on stimulating economic growth in Northern Ireland, emphasised the opportunities presented by Northern Ireland's dual access to the UK and EU markets.
"Two of my primary responsibilities will be trying to get those firms who are already here to expand their footprint and, of course, to make the case to the next set of global partners about why they should come here," he said.
"Perhaps not surprisingly, many executives are already aware of the case for Northern Ireland.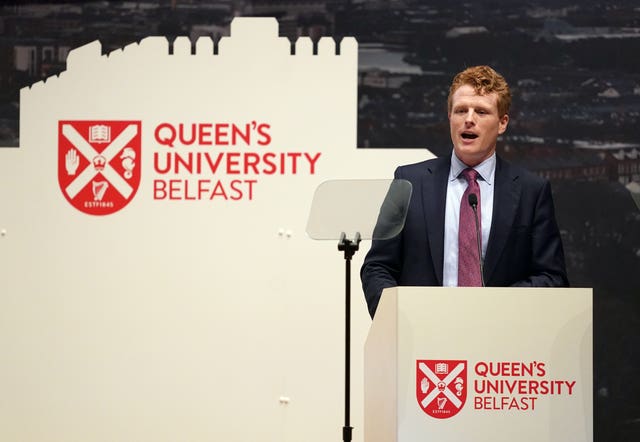 "They also, yes, want clarity and certainty. They want to have a good idea of what might change and how and when that might happen. The sooner they have answers to those questions, the better for a Northern Ireland economy."
Mr Kennedy added: "There also can be no prosperity without peace, and there can be no peace without prosperity."
Jayne Brady, head of the Northern Ireland Civil Service, told the conference the next mission was to ensure the benefits of the peace dividend are felt by everyone in the region.
She said: "The sad fact is that the legacy of our past still clings to us.
"We are struggling to deal with persistent societal problems, low-paid work, low economic productivity and multi-generational poverty.
"Not all our communities have experienced the benefits of peace and even after 25 years of peacebuilding and investment our job is not yet done."
Mr Sunak will then later host a gala dinner, attended by political leaders, international dignitaries and leading charities.
Meanwhile, former US Secretary of State Hillary Clinton was in Limavady, Co Londonderry, to honour a new shared education initiative by two local schools.
She said: "While we have been celebrating the 25th anniversary of the Belfast/Good Friday Agreement at Queen's (University), and it is an enormous achievement for which the people of Northern Ireland deserve all of the credit, we know that the work for peace, prosperity and progress that so many have committed their lives to continues.
"The journey is by no means finished.
"The work of sharing education and of expanding housing and of working to remove barriers and divisions in neighbourhoods and to tackle persistent poverty and unemployment are ones that have to be at the top of our list of priorities.
"No victory and no defeat is ever permanent. Every generation has to continue to do its part to both preserve and expand opportunity."