Rishi Sunak has criticised "Sir Softie" Keir Starmer as he claimed the Labour leader is "soft on crime, soft on criminals".
The Prime Minister hit back with the nickname after Sir Keir accused the Government of breaking the NHS, criminal justice system and the asylum system.
Mr Sunak sought to ramp up the attacks further by waving a copy of the 2013 legislation which ensured Sir Keir received a pension tax break due to his work as head of the Crown Prosecution Service (CPS).
Sir Keir has been accused of hypocrisy in wanting to block Chancellor Jeremy Hunt's plans to relax the tax rules on pensions for the wealthy while he reportedly benefits from a generous "tax-unregistered" scheme from his time as director of public prosecutions (DPP).
The Opposition leader has previously said he did not want a "tax advantage" from the pension scheme he was involved in before he was elected as an MP and has committed to putting himself "in the same position as everybody else in this country".
Opening PMQs, Sir Keir pressed on the state of public services and told Mr Sunak: "People waiting more than two days (for) an ambulance because they broke the NHS. Only one in a hundred rapists going to court because they broke the criminal justice system.
Mr Sunak replied: "What's the record since 2010? Crime down by 50% under the Conservative government, 20,000 more police officers, we've given them more powers and we've toughened up sentencing all opposed by Sir Softie over there."
In a raucous session in the chamber, Sir Keir claimed Mr Sunak either does not use the same public services "as the rest of us" or he "simply can't see the damage they have done to our country".
He highlighted the case of a "convicted people smuggler" who "threw boiling water over a prison officer, leaving him with first-degree burns".
Sir Keir said the prison sentence was suspended, adding: "Anyone watching this would wonder why someone who violently attacks a key worker isn't behind bars.
"Can't the Prime Minister see because they have lost control of the court service, because they have created the largest court backlog on record, he is letting violent criminals go free?"
Mr Sunak said the Government is "cracking down on grooming gangs" and has "toughened the law on sex offenders so they spend longer in prison", adding: "He voted against it.
"We've increased rape convictions by over 60%. Meanwhile, he attended 21 Sentencing Council meetings that watered down punishments. That's why they call him Sir Softie. Soft on crime. Soft on criminals."
CPS data released in January showed conviction rates for rape reducing from 69.1% in the first quarter of 2022/23 to 61.9% in the second quarter, with Labour previously highlighting charge rates at 1.6%.
The Labour leader said another reason cited for suspending the sentence in the case highlighted was a letter from Justice Secretary Dominic Raab about prison overcrowding.
He said: "As a result of that letter courts have been told to have awareness of the impact of current prison population levels when passing sentences. In simple terms: the wrecking ball the Tories have taken to criminal justice means that thousands of people who should be in prison aren't."
Sir Keir asked the Government to withdraw the letter "which is allowing criminals to walk free".
Mr Sunak said the Government is in the process of developing 20,000 more prison places before highlighting criticism by current shadow attorney general Emily Thornberry of Sir Keir when he was DPP.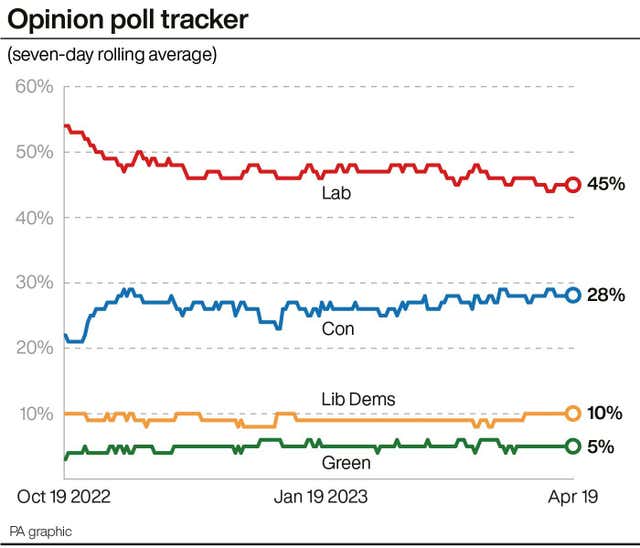 Asked about what Sir Keir made of the new "Sir Softie" attack line from Mr Sunak, a Labour spokesman told reporters after PMQs: "If you want to compare the record of the Prime Minister and the leader of the Labour Party, then Keir Starmer is the person who has actually got a proven track record of delivering justice for people, for prosecuting criminals, for breaking-up terrorist plots and dealing with international crime.
"These are all things that are to his credit and strength and the record he would bring to being prime minister.
"And it is why he takes so seriously the failings we've had in the criminal justice system under 13 years of the Tories."