Climate campaigners staged a protest in the debating chamber of the Scottish Parliament as well as in the foyer despite new restrictions to deter such action.
Two protesters from This Is Rigged stood on top of a wooden beam in a waiting area in the public area of Holyrood on Thursday, just before First Minister's Questions began.
The activity caused disruption and a large police and security presence in the main foyer, where school groups and others visitors arrive at the Parliament.
First Minister's Questions was also briefly disrupted by protesters from the same group.
"We're here today because we have a really simple question.
"All we want is for the Scottish Parliament to oppose new oil and gas projects like they did with Stop Cambo.
"All we need is a statement.
"They are not providing a fully-funded just transition for Scotland's oil workers.
"They talk about it and talk about it but there is no concrete action.
"We need action and we need action now."
The demonstration came after the Scottish Parliament brought in new security measures, requiring visitors to store electronic equipment in lockers.
Everyone wishing to attend to watch the weekly First Minister's Questions clash between the party leaders also has to book a ticket in advance, giving their name and address, with Holyrood bosses insisting ticket requests will not be processed without this information.
For groups of people attending together, the names and addresses of all members will have to be given, instead of the previous system whereby only the details of the lead person making the booking was required.
Everyone collecting a ticket will have to show identification, with mobile phones and other electronic devices having to be stored in a secure locker and not taken into the gallery.
On Wednesday, This is Rigged insisted the measures would "not stop the disruption", as they urged First Minister Humza Yousaf to "listen to the people" on the issue of climate change.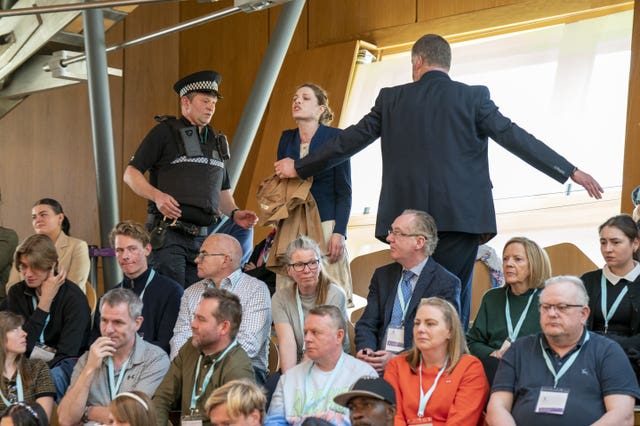 The spokesperson added: "All of the individuals who protested in the Mail Hall will be issued with six-month bans as we do not allow protests anywhere inside the building.
"One further individual, who briefly disrupted FMQs, will also receive a six-month ban from all of our public galleries.
"The Parliament will continue to implement these new measures to protect the integrity of chamber business, and will keep under review whether further steps are necessary.
"While we very much regret the inconvenience these measures have on the many people who come to watch FMQs peacefully, we cannot allow the democratic process to be disrupted by a small number of individuals.
"These protests have served only to disrupt MSPs from holding the First Minister and government to account."
Police Scotland confirmed no arrests were made and protesters left of their own accord.