Michael Gove has warned shareholders in cladding companies that the firms will face "severe consequences" if no post-Grenfell financial support package is forthcoming.
The Housing Secretary has written to Kingspan, Arconic and Saint-Gobain investors, the Department of Housing confirmed on Thursday, to call on shareholders to use their "position of influence" to get the businesses to "engage constructively in helping us reach a just resolution for all concerned".
Blackrock, Vanguard, Fidelity Management and Research, as well as the central bank of Norway Norges Bank, have all received a letter from Mr Gove about the matter.
According to the department, shareholders were told that if the manufacturers fail to bring forward a financial package "the consequences for that firm are likely to be severe".
A total of 72 people died in the June 2017 fire at the Grenfell tower block in north Kensington, London.
The latest set of letters come after Mr Gove wrote to Kingspan, Arconic and Saint-Gobain, earlier this year, directly on the matter.
"I have always been clear that those responsible for the building safety crisis must pay," Mr Gove said.
"But despite the fact that their products continue to put lives at risk, some cladding firms have no intention of doing what's right and addressing their moral and financial obligations to innocent residents.
"Today, we ask responsible investors to use their influence to encourage these companies to come forward immediately with a comprehensive financial package for remediation work.
"It cannot be right that cladding companies continue to profit whilst so many innocent, hardworking people face financial hardship and misery.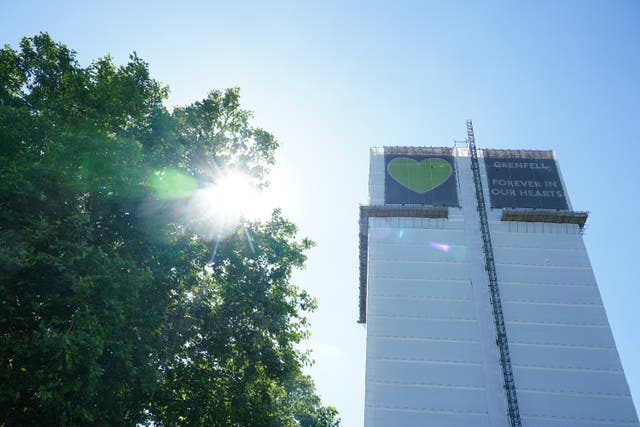 The Department also said that 46 firms have now signed up to post-Grenfell building safety contracts, after Mr Gove sought to put public pressure on firms that initially did not join the agreement.
Mr Gove and housing officials are also considering the findings of a newly-published review of the testing regime for construction products, commissioned after the Grenfell inquiry and carried out by Paul Morrell and Anneliese Day KC.
In that report, the pair said: "Amongst the least edifying spectacles of the Grenfell Tower tragedy have been the arguments deployed by successive parties in denying or deflecting responsibility.
"It is for the public inquiry to investigate and report on the failings that occurred and by whom, but there are some truths that should be taken as evident."
Among them, the report found, was that "it is for constructors to bring everything together with the same objective in mind – using imagination to find better ways of doing things by all means.
"But not, in a careless moment, throwing away all of the good work that has brought the product and design to that stage in order to save cash in the short-term, leaving the building owner and occupiers with a problem in the long-term."
The End Our Cladding Scandal campaign group said in a statement: "Reform of the construction products sector is vital and long overdue. But we are still a long way from justice. True justice for Grenfell's bereaved, survivors and residents and for innocent leaseholders trapped in unsafe buildings across the country.
"Michael Gove may be speaking out strongly but, as we approach the sixth anniversary of the Grenfell fire and drafting of the final Grenfell Tower Inquiry Report under way, those companies that wilfully sold unsafe products must finally be held and be seen to be held to account for their blatant wrongdoing."