Extinction Rebellion has begun several days of protest in central London as the climate activist group attempts to abandon disruptive tactics and focus on "relationships over roadblocks".
Groups of protesters chanted and danced outside Government departments in Westminster on Friday as they called for more action to tackle the climate crisis.
A protester wearing a kilt played the bagpipes while some motorists honked their horns in support of the demonstration.
Protesters held signs calling for Prime Minister Rishi Sunak to scrap plans to develop Rosebank oil and gas field that lies west of Shetland.
Doctors in their scrubs protested outside the Department of Health and Social Care, including Dr Daniel Roberts, 33, an accident and emergency registrar in Brighton, who attended the protest wearing a large mosquito costume.
He told the PA news agency he came to London for the weekend because "the effects of pollution and climate change will cause a massive health crisis".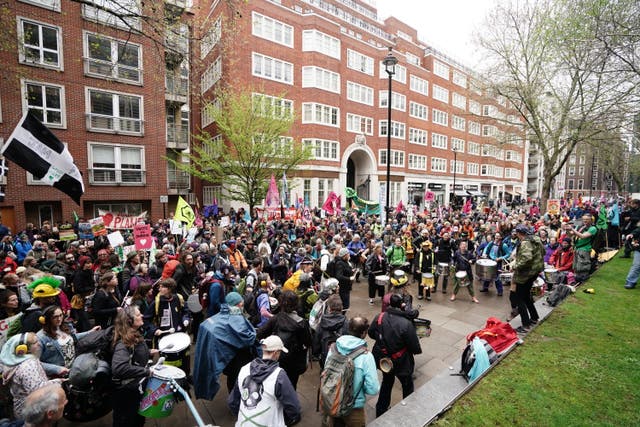 "I've worked in refugee camps, I'm carrying a huge mosquito because there is more malaria, more dengue (fever), there are so many more problems than people realise."
Extinction Rebellion has previously adopted methods of direct action, with activists blocking roads and glueing themselves to objects to prevent police from moving them on.
However, climate activists have promised protests this weekend will not disrupt the London Marathon which, takes place on Sunday.
Supporters of the protest group Just Stop Oil attended Friday's demonstration attempting to recruit participants for slow marches, which it plans to carry out next week.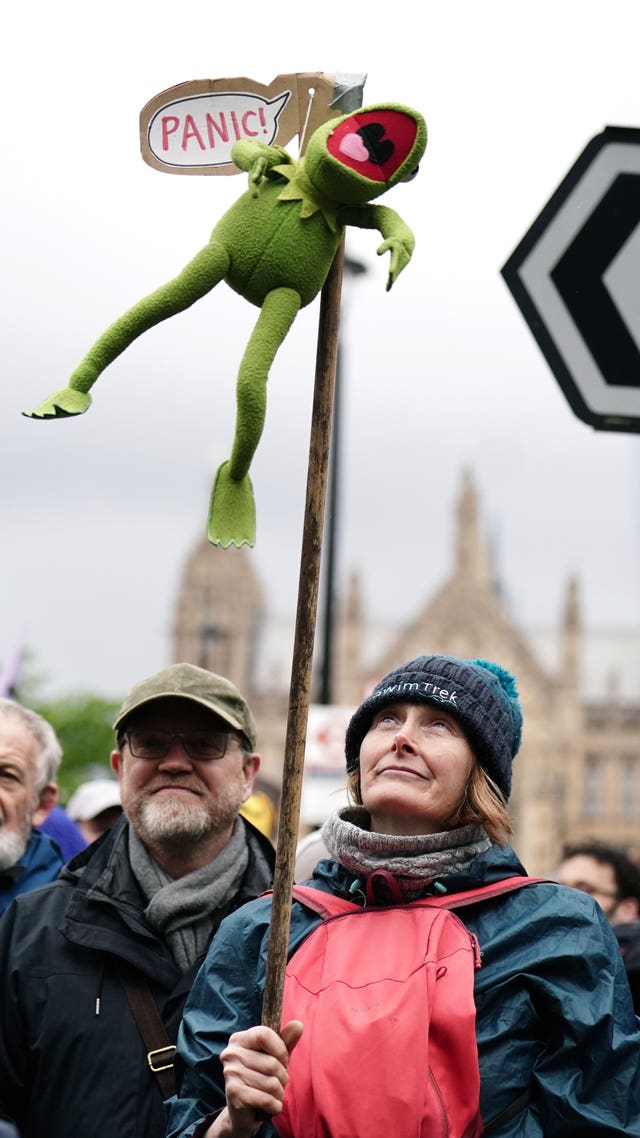 Speaking from outside the Department for Business, Energy and Industrial Strategy, she said: "I don't think we're going to tackle the climate crisis in a weekend, everybody needs to be getting out in the streets.
"It's up to us now, ordinary people, to fight for life on Earth. Pick up a history book, successful movements of social change must cause disruption, and this is the most important fight."
Ruth MacGilp, 26, a sustainable fashion campaigner from Edinburgh, said it was "so inspiring" to see thousands join Extinction Rebellion's the Big One protest in locations across London.
Standing with protesters outside the Houses of Parliament in Westminster, she told PA: "I am joining the Big One because it is more important than ever to come together in solidarity as the Government and mainstream media try to turn us against each other.
"As citizens, we have more power than we realise when we come together and demand a better future.
"The science is clear, we need to end fossil fuels and take urgent climate action to safeguard people and the planet.
"Anyone who is concerned about the climate crisis, the cost-of-living crisis and why our elected officials have failed to address these intersecting issues should raise their voice."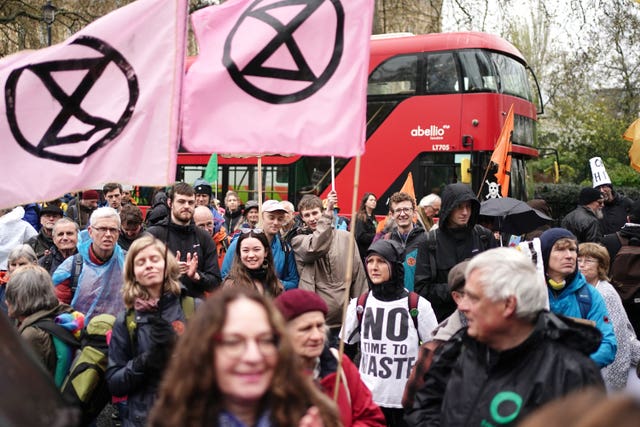 "I've come down to London really to speak truth to power ultimately," she said.
"Any new oil and gas is a death sentence to the majority, they (the Government) are handing out death sentences.
"There cannot be any new oil and gas for a liveable future."
Ms Newall said the campaign group started this year with a "very clear" change to their protest "tactics and strategy," moving away from more infamous disruptive protests it has carried out in recent years.
She said: "We are listening to the public attitude and we understand that disruption doesn't bring everybody on board.
"We don't really want to be alienating anybody because, ultimately, we need everybody in this fight for our future.
"We will ensure that we can still have our voice without having to disrupt the marathon.
"If our voices aren't heard and aren't listened to, then you can expect a bit more disruption."