Claims the Scottish Government did not formally request an exemption from UK-wide laws for its deposit return scheme are "categorically not true", a minister has said.
The start of the scheme was delayed earlier this week from August to March next year, and Scottish circular economy minister Lorna Slater has outlined new exemptions for small containers and products with low sales.
In Holyrood on Thursday, she said the delay was primarily due to the UK Government not providing an exemption to the Internal Market Act (IMA), which was implemented after Brexit to regulate trade within the UK.
But the deposit return scheme (DRS), which will introduce a 20p deposit on the price of drinks in cans and bottles which is repaid to the consumer when they are returned to a retailer, had previously come under fire from business groups.
Ms Slater told MSPs on Thursday she will write again to the UK Government with the IMA exemption request, which she said she believes will be granted.
The Scottish Government previously said former deputy first minister John Swinney had made the original request.
But following Ms Slater's Holyrood statement, the UK Government said a formal request for IMA exclusion was only received "on March 6, 2023".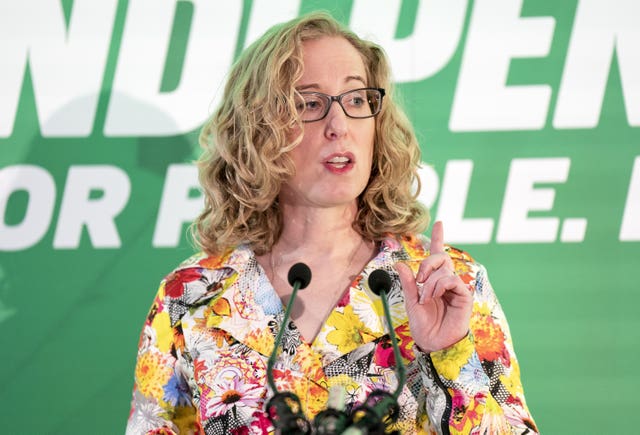 Speaking to BBC Radio Scotland's Good Morning Scotland (GMS) programme on Friday, Ms Slater, a Scottish Greens co-leader, said her Government has been working towards an exclusion since 2021.
Responding to the UK Government's claims, she said: "That is categorically not true.
"The process by which this sort of exclusion is issued is agreed at the public process online by which the governments work together towards these sorts of exclusions from the Internal Market Act.
"We first started this process in 2021… there is no formal request as part of that process.
"This is entirely political game-playing by (Scottish Secretary) Alister Jack."
The scheme will now be overhauled with containers under 100ml exempt – effectively removing all miniature bottles of alcohol – as well as further exemptions for producers who sell less than 5,000 units per year.
Larger producers who have smaller product lines which also sell less than that threshold, the minister said, would not be required to put a deposit on the product.
She said 44% of small producers would be exempt from the scheme because of the changes.
A UK Government source said on Friday: "Lorna Slater is only embarrassing herself further by making these laughable claims. This is a mess entirely of her own making."