The 2023 TCS London Marathon coincides with the third day of an Extinction Rebellion (XR) protest but the event's organisers are already taking steps to reduce its environmental impact.
At least 45,000 people are expected to take part in the race while a similar number of climate activists could be on the streets near the 26.2 mile route although XR said it is coordinating with the race's organisers and does not plan to disrupt runners.
London Marathon Events (LME) aims to reach net zero carbon emissions across its own operations by 2024 and remove more carbon than it emits across all event operations by 2025.
Event director Hugh Brasher said it is "passionately committed" to minimising the environmental impacts of its events which also include the Brighton Marathon, The Big Half, Royal Parks Half, London 10,000, Westminster Mile, Great City Race, Ride London cycle event and Swim Serpentine.
Runners who complete 26.2 miles on Sunday April 23 will receive a New Balance finisher T-shirt made from 100% recycled polyester.
Participants also had the chance to opt out of receiving a finisher T-shirt and plant a tree instead, through a partnership with Trees not Tees.
This year's coveted TCS London Marathon medal features a ribbon made from recycled materials while the goody bag handed out after people cross the finish line is made from sugar cane and is recyclable.
An energy-restoring flapjack in the bag is from a local producer.
Runners and walkers waiting for their wave to start often wear extra layers to keep warm and dry so clothing discarded at the start is collected and sent for reuse or recycling.
People are encouraged to carry their own drinks to reduce the need for plastic bottles to be handed out and to prevent water being wasted if people take a mouthful and discard the bottle as they run on.
LME sells a specially designed bottle belt which is made from 95% recycled materials.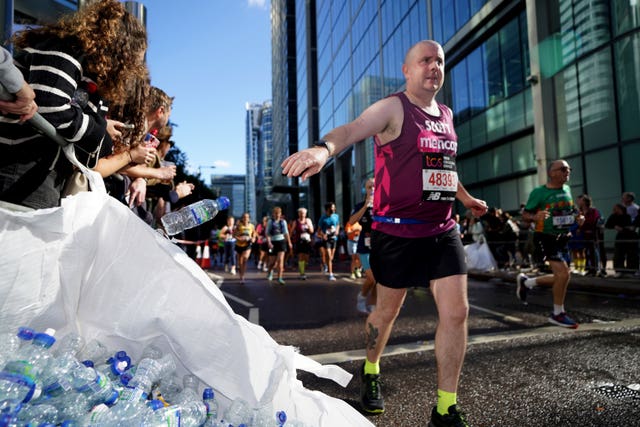 For those who want an energy drink, Lucozade Sport is offered in compostable cups.
Generators and baggage vehicles are fuelled by Hydrotreated Vegetable Oil (HVO), which is significantly lower in carbon and particulate emissions than diesel, while the race's six lead vehicles are electric as are more than half (53%) of the logistics vehicles used in event set-up and breakdown.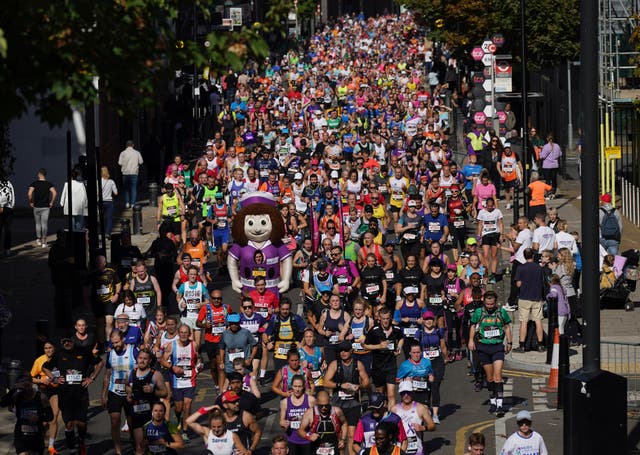 Leftover food and drink from the event is donated to The Felix Project, a London-based charity that delivers to almost 1,000 frontline charities, primary schools and holiday programmes to help feed local communities.
The event also charges international participants a £26 carbon levy to fund carbon removal and offset projects.
London Marathon Events this year started using TCS's ReScore app which was developed for the Council for Responsible Sport.
ReScore will enable LME to measure the environmental and social impact of the marathon, as well as to report, verify and certify against sustainability standards set by the council.
It is also working with Green Element, a specialist carbon consultancy, and using its Compare Your Footprint platform to improve data capture and analysis.
This will enable LME to produce more accurate carbon emissions calculations and to set short-term targets and action plans to reduce these.
Mr Brasher said: "London Marathon Events is passionately committed to maximising our social impact and minimising the environmental impacts of our events.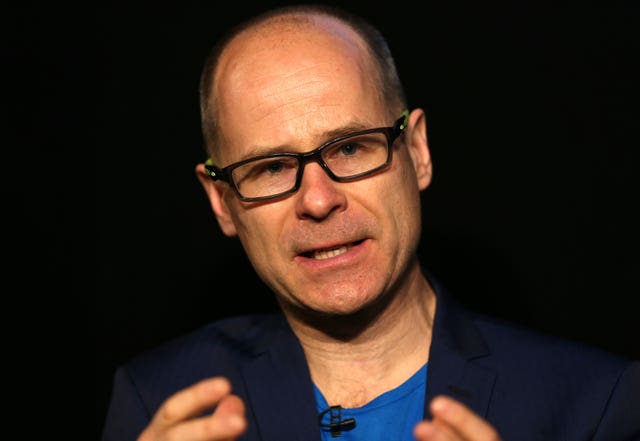 "Our social impact has driven the organisation for many years, and we are delighted to be starting to measure it through the ReScore app, developed by TCS.
"It will enable us to have a world-recognised ranking for all the work we are doing to drive positive change.
"We have already achieved a lot, but we know there is far more to do."
Amit Kapur, country head for TCS UK & Ireland, said digital technology could help to create an "inclusive and sustainable event that contributes to a greater future for all of us".
Council for Responsible Sport board member Kevin Phelan praised LME for "taking a truly systematic approach" but also for "demonstrating strong leadership and innovation in critical areas for the industry".
"We are excited to be collaborating with LME on their journey and their commitment to responsible sport," he added.