A British businessman trying to escape Sudan has described hiding in basements for three days with no food or water to avoid the fighting in Khartoum.
Ibrahim Ali Ibrahim, who owns a security firm in Birmingham, travelled to Sudan in February to visit family for the first time in nearly a decade – leaving his wife and four children at home.
The 37-year-old was on his way to purchase a return plane ticket from a travel agency in the centre of the Sudanese capital when fighting broke out between military and militia forces on the morning of April 15.
Speaking from an airbase near Khartoum, he told the PA news agency: "Suddenly everybody was running.
"I saw a lot of people get shot and dying in front of my eyes, people getting injured – it was really terrible."
"I was hiding for three days with no food, no water," he said.
"You go to the wrong road, you're going to get shot. One way you've got the army, the other you've got militia.
"I tried to move in the middle of night slowly, slowly until I got out [of central Khartoum].
"I couldn't tell what day it is. Everywhere there is guns shooting, tanks and bombing.
"I worried a lot about not seeing my children and my wife again.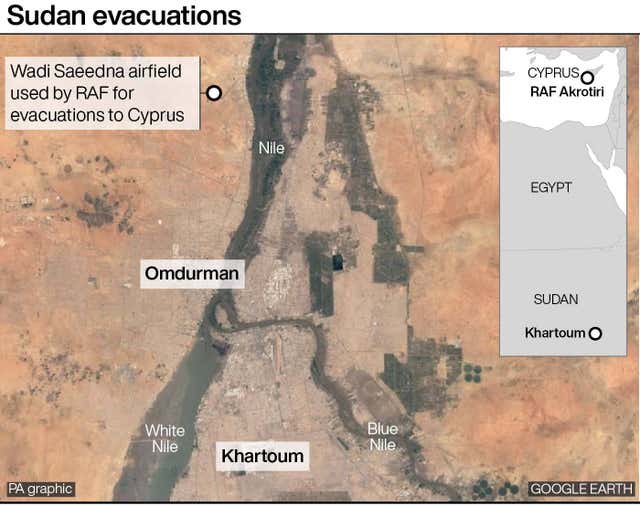 After three days, he knocked on the door of a family who took him in, gave him food and water and allowed him to charge his mobile phone.
Having contacted the British Foreign Office, Mr Ibrahim travelled to an airstrip on the outskirts of Khartoum on Wednesday morning, hoping to be evacuated.
Eight flights are expected to evacuate people from Sudan to Cyprus throughout Wednesday.
The first flight carrying 250 people from Larnaca Airport in Cyprus arrived at Stansted Airport on Wednesday afternoon.
He said: "I've seen a lot of bad things. I've seen injured people crying and nobody knows how to help them.
"I've seen people die in the street and nobody picks up the bodies. You could smell it everywhere."
He added: "I miss my wife and children a lot. I miss everybody back home in the UK and I hope my family in Sudan are all safe. I hope the war stops soon as possible."