A life-sized bust of the King has been made from more than 17 litres of melted Celebrations chocolates amid the build-up to the coronation.
The bust – which weighs over 23kg and took four weeks to create – was designed by an expert team of chocolatiers and model makers who carefully planned how to make the profile view of Charles look as close as possible to the image of him which will soon grace stamps, coins and bank notes.
The uniform Charles is expected to wear at the coronation is the same on the sculpture, with the epaulettes – a type of ornamental shoulder piece – embellished with Twix, Milky Way, Galaxy and Bounty Celebrations chocolates.
One of the iconic confectionery brands' favourites – Maltesers Teasers – have been used on the collar, with the medals on the chest of the bust featuring chocolates including Snickers.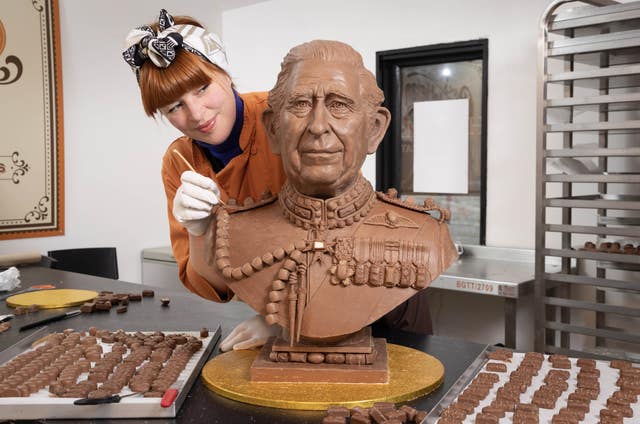 "The team studied hours of footage of the King to capture his true likeness and the resemblance is uncanny", said Emily Owen, senior brand manager for Celebrations.
"Celebrations is all about bringing people together and we are thrilled to be sharing this occasion with so many chocolate lovers up and down the country."
The piece was specially commissioned by Celebrations, who are also to launch a  limited-edition coronation tub to mark the event, which will be available in select Tesco stores.