Rishi Sunak was urged to scrap his "beloved non-dom status", as he faced accusations at PMQs of being out of touch with the public.
Sir Keir Starmer branded the Prime Minister "Mr 24 tax rises" and claimed he did not understand the public's struggle with the cost of living, after he described Labour's attack on the special tax status as "this non-dom thing".
But Mr Sunak hit out at the Labour leader's special pensions tax arrangement from his time as the director of public prosecutions, claiming it was "literally one law for him and a tax rise for everybody else".
At Prime Minister's Questions Sir Keir said: "This is Mr 24 tax rises.
"I've never heard anything so out of touch as the answer that he has just given, and it's not just his refusal to take any responsibility for the damage they've done, the crashed economy, the hit to living standards, it's also he refuses to take the action that's needed.
"He could stop the handouts he's giving to oil and gas giants.
"He could scrap his beloved non-dom status.
"He could put that money back in the hands of working people and get the NHS back on its feet, that's what a Labour government would do, why doesn't he?"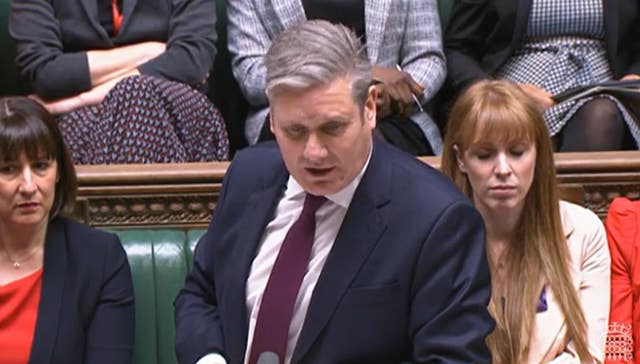 "Record numbers of people in work.
"Inequality now lower, the number of people in poverty lower.
"Those in low pay, the lowest numbers on record.
"He talks about this non-dom thing, I think he's already spent the money that he claims he'd raise on five different things because it's the same old Labour Party.
"They're always running out of other people's money."
Sir Keir responded: "He calls it 'this non-dom thing', let's be honest about what his refusal to scrap the non-dom status means.
"It means that at every possible opportunity he has voted to put taxes up on working people while at the same time taking every possible opportunity to protect a tax avoidance scheme that helped his own finances."
"I said it last week, but I will say it again, it is literally one law for him and a tax rise for everybody else."
Sir Keir replied: "Here's the difference, I would scrap his pension giveaway whether it affected me or not.
"He refuses to scrap the non-dom status that benefits him and his family."
Echoing the Prime Minister's words, he added: "I can see why he is attracted to this 'non-dom thing'."
The Labour leader continued to claim Rishi Sunak was out of touch, adding: "So out of touch that he looks at a petrol pump and a debit card like they've just arrived from Mars."
He went on: "Is it any wonder that he smiles his way through the cost-of-living crisis while putting other people's taxes up?
"Is it any wonder he doesn't have a clue how food prices are hammering families across country?
"And is it any wonder that under him people are paying more and more and getting less and less?"
The Prime Minister responded by laying out Labour's recent record in Parliament, telling MPs: "Let's just look at what's happened just in this week, where the Labour Party have put themselves.
"On Monday in the House of Lords they decided to side with extremist protesters, just yesterday they sided with polluters, and tonight we will see them siding with the people smugglers."