Westminster Abbey has served as the coronation church for nearly 1,000 years and is the final resting place of 17 monarchs.
Edward the Confessor, Charles II and Elizabeth I are among those buried in the historic London church, which is steeped in British history and famed for its stunning gothic architecture.
King Charles III will be the 40th reigning monarch to be crowned there when the golden bejewelled St Edward's Crown is lowered onto his head by the Archbishop of Canterbury on May 6.
The King's ceremony is the Abbey's 39th coronation – with a rare joint one for dual sovereigns William III and Mary II taking place in 1689.
Every monarch since William the Conqueror in 1066 has been crowned on the site, with the exception of Edward V – one of the disappeared Princes in the Tower – and the abdicated Edward VIII, whose coronations never happened.
The late Queen Elizabeth II was married and crowned in the Abbey.
And seven months ago, her successor Charles and other loved ones gathered in mourning at her grand state funeral.
In 2011, the then Duke of Cambridge, now the Prince of Wales, exchanged vows with Kate Middleton, now the Princess of Wales, as millions watched across the globe.
Many other royals weddings have been held at the abbey, including that of George VI and the Queen Mother, the Queen's sister Princess Margaret, the Princess Royal and Captain Mark Phillips, and the Duke of York and Sarah Ferguson.
More than 3,300 people are buried in the abbey and it houses memorials to the famous and the great.
The ashes of eminent cosmologist Professor Stephen Hawking are interred between the remains of Sir Isaac Newton and Charles Darwin.
And in Poets' Corner in the south transept are the graves or memorials of more than 100 literary figures including William Shakespeare, Jane Austen, the Bronte sisters and Charles Dickens.
Near the Great West Door is the Grave of the Unknown Warrior – the unidentified First World War soldier who has come to symbolise the nation's war dead.
The Unknown Warrior's body was brought from France and buried on Armistice Day, November 11 1920.
It is thought the idea came from the Rev David Railton, who had served as a chaplain on the Western Front.
Now one of the most visited war graves in the world, it is where royal brides send their bouquets to be placed the day after their wedding in a tradition started by the Queen Mother.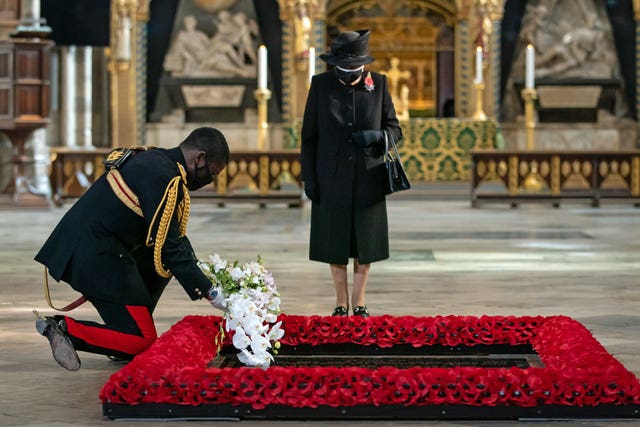 The present church, begun by Henry III in 1245, is one of the most important Gothic buildings in the country, with the medieval shrine of an Anglo-Saxon saint, Edward the Confessor, still at its heart.
The abbey, which has the official title of the Collegiate Church of St Peter, Westminster, is known as a royal peculiar with a dean and chapter, responsible not to a bishop or archbishop but only to the sovereign.