More than two thirds of people in Northern Ireland believe big changes are required to the powersharing structures created by the Good Friday Agreement, a new survey has found.
The same proportion of the population, 70%, think the peace accord of 1998 has failed to deliver stable governance, according to the poll commissioned by Westminster's Northern Ireland Affairs Committee.
That level of scepticism about the deal's success in delivering stability remained consistent across age, religion and political affiliation.
The survey, conducted by YouGov and Ohio State University (OSU), found that 55% of people believe the Good Friday settlement has failed to produce effective governance.
The DUP is currently exercising its veto to blockade Stormont in protest at post-Brexit trading arrangements.
In 2017, Sinn Fein collapsed the ministerial executive amid a furore about a botched green energy scheme.
The Government is currently facing calls from some of the DUP's main rivals, particularly the cross-community Alliance Party, to change the rules to allow the majority of MLAs to get back to work.
The DUP contends that changing the system without unionist consent would undermine the principles of the powersharing agreement.
The survey found that three out of four people feel the requirement for major decisions to have cross-community support, with blocs of nationalists and unionists able to exercise vetoes, is now leading to a failure to address pressing policy issues.
The exercise was commissioned as part of the Northern Ireland Affairs Committee's inquiry into the effectiveness of the Good Friday Agreement structures.
Committee chairman Simon Hoare said the poll provided an "important snapshot" of current thinking in the region.
"One of the aims at the outset of our inquiry was to give ordinary people in Northern Ireland an opportunity to tell decision makers in Belfast, London and Dublin how they feel about the way the institutions set up 25 years ago are working for them today," he said.
"These findings are an important snapshot of current thinking among people from all backgrounds in Northern Ireland, and a helpful contribution to my committee's thinking as we continue with our inquiry and look to publish a report on these issues later in the year."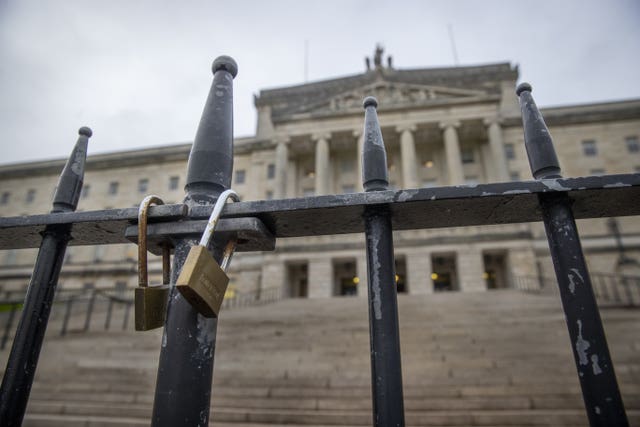 A random group of 270 from that group were then invited to a 'Deliberative Town Hall' run by the Institute of Democratic Engagement and Accountability (Idea) at OSU.
Participants were surveyed for their views before and after, a format successfully used by US Congressional committees, to provide the committee with more in-depth data and views.
Sentiment on changing the institutions and on failure to achieve stable governance increased following the online meeting.
An interim report from Idea noted that although the notion of reform was strongest amongst those who did not feel represented by nationalism nor unionism, a majority across all parties were open to at least small reforms.