A primary school teacher who stabbed her partner and buried his body in their back garden has told a court she does not remember much at all about the killing or the following months.
Fiona Beal began giving her evidence to a murder trial jury by telling her barrister she accepted killing Nicholas Billingham, who prosecutors say fell victim to a plan outlined in a "chilling" confession written by her.
The Crown allege Beal, of Moore Street, Northampton, hid a knife in a bedside drawer and got Mr Billingham to wear an eye mask before stabbing him in the neck in their bedroom on November 1 2021.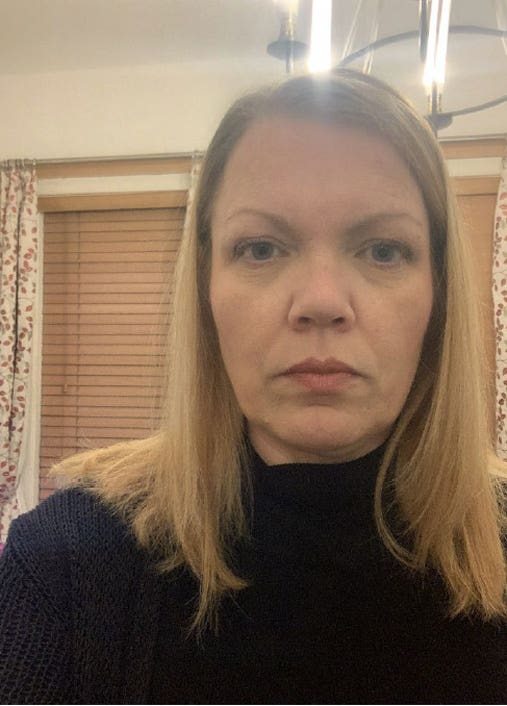 It is alleged a book found when Beal was arrested in Cumbria in March last year, containing a hand-written note, amounted to a "confession" to the killing.
Beal's barrister, Andrew Wheeler KC, has claimed the "scribblings" are clear evidence of a disturbed mind on the part of the Year Six teacher, who denies murder.
At the start of Beal's defence case on Friday, Mr Wheeler asked Beal: "Do you accept that you killed Nicholas Billingham?"
Beal answered: "Yes, I accept that."
Wearing a black cardigan and trousers, and a blue patterned top, Beal responded: "I don't remember much at all about when it actually happened or the months afterwards."
She then went on to tell the jury at Northampton Crown Court about her personal life and career, and claimed Mr Billingham had twice thrown a dinner plate against a wall after making cleaning into a "huge issue" between them.
Beal told the court she studied English at the University of Luton and returned to Northamptonshire, living with a friend who had introduced her to Mr Billingham in 2004.
During her time at university, Beal said, she was prescribed anti-depressants.
She said Mr Billingham, who was working as a builder with his stepfather, was very caring and very attentive at the start of their relationship.
After confirming details of how she had been offered a role as a teaching assistant in 2012 and had qualified as a teacher in 2015, Beal said she had "loved" her job and had found teaching difficult children rewarding.
Mr Billingham had changed in "small incremental steps", Beal alleged.
"At the beginning, I remember when were in a flat," she told the court. "I had left a cloth with cleaner on it and it stained a worktop.
"It didn't seem really serious but then cleaning became a huge issue throughout the years. And rather than laughing things off I would get told off."
"It just got worse and it lasted 'til the end."
Items placed in cupboards had to be placed facing outwards, Beal claimed, while "there were a couple of occasions when he (Mr Billingham) threw a plate of dinner at the wall".
"I lost a lot of confidence," Beal continued. "It started with… joking that I was not doing something and then it just crept into being nasty about it."
The court has heard that the partly mummified remains of Mr Billingham, aged 42, were discovered in March last year, four-and-a-half months after he was seen at a business meeting.
Opening the Crown's case at the start of the trial, prosecutor Steven Perian KC said Beal had written in a notebook that she believed Mr Billingham was cheating on her, and "had decided to kill him" by October 2021.
Jurors were told the notebook contained a claim that Beal had been spat on and threatened during sex and subjected to cruel and belittling treatment.
But instead of leaving him, Mr Perian said, Beal formed a plan on how and when to kill him, where to conceal his body, how to cover up and explain his disappearance to others, and how to explain her own absence from work when she killed him.
Having killed Mr Billingham, the Crown alleges, Beal tied up and wrapped his body, buried it in the garden, and painted and cleaned the bedroom where the killing had taken place.
Mr Wheeler argued earlier in the trial that Beal was guilty of manslaughter rather than murder, having been mentally "broken" following coercive behaviour.
The trial continues.