Attending the King's coronation was "the right thing to do", the Sinn Fein vice president has said.
Michelle O'Neill attended the coronation ceremony in Westminster Abbey on Saturday alongside other party leaders from Northern Ireland, including the DUP leader Sir Jeffrey Donaldson.
Ms O'Neill's presence at the coronation was seen as another demonstration of the markedly improved relations between the republican movement and the royal family since the peace process.
At the party's 2023 local election manifesto launch in Newry on Tuesday, Ms O'Neill said differing political aspirations should be respected.
"I attended the coronation event, because I believe that that was the right thing to do," she said.
"I believe that if we're going to build a better society, and look towards the future, and a better future for our children and our grandchildren, then we have to have the confidence in ourselves and who we are, and to respect our differences.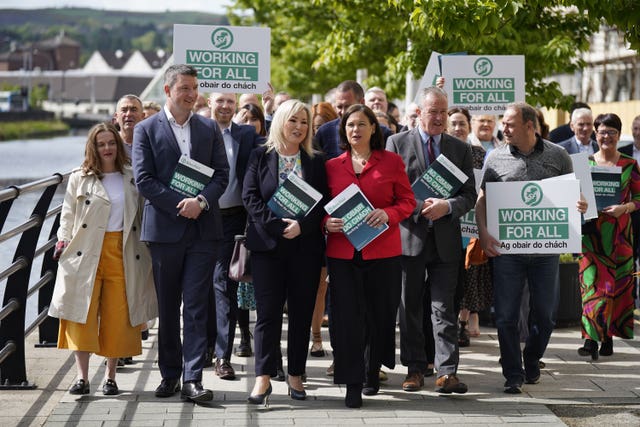 "And let's keep our eyes on the next 25 years, and we've just celebrated 25 years of the Good Friday Agreement, and what's been achieved is amazing, despite all the political ups and downs, what's been achieved is amazing.
"And I'm focused on the future, and we've talked about change and the changing political landscape, and where we want things to go in the future – let's make sure that everybody feels comfortable, and feels valued and is treated equally in our society, because then we'd have the recipe for something better for everybody."
Sinn Fein president Mary Lou McDonald said that Ms O'Neill's representation of the party at the coronation was a show of respect for Unionists.
"I just wanted to say very clearly that Michelle's attendance, Sinn Fein's attendance at the coronation, was a mark of recognition and respect for our Unionist citizens, for British people who are British now in a partitioned Ireland, and who will be British in the United Ireland, and it's an explicit recognition of that," she said.
She added: "We all live here together, for goodness's sake, when there is an act of, of respect, kindness, inclusion, let's take that. That's what I think we should do for each other."