A port where a barge housing asylum seekers is set to dock has reportedly removed its cruise ship schedule from its website in a bid to deter far-right protests.
The Bibby Stockholm arrived on Tuesday in Falmouth, Cornwall, where the accommodation barge will undergo an assessment and refurbishment.
The vessel, which will house around 500 migrants, is then expected to be moved into position at the Portland of Port in Dorset in the next few weeks.
According to The Times, the Portland Port has looked to deter anti-migrant demonstrations, which are expected in protest at the barge's presence, from targeting the arrival of tourists coming into the area on cruise ships.
But The Times said that, after criticism of its plans to allow the Bibby Stockholm to moor in its waters, the port's website has removed the dates.
The media outlet cited a source involved in the planning as saying the dates were taken down because of concerns that far-right activists could organise anti-migrant protests on days when thousands of tourists are due to arrive on cruise ships.
A Portland Port spokesman, when asked about the report, said: "All cruise calls are proceeding as normal at Portland Port but arrivals and departures are subject to change, as they are at any port.
"Therefore, it is best to contact the cruise line involved for the most up-to-date information."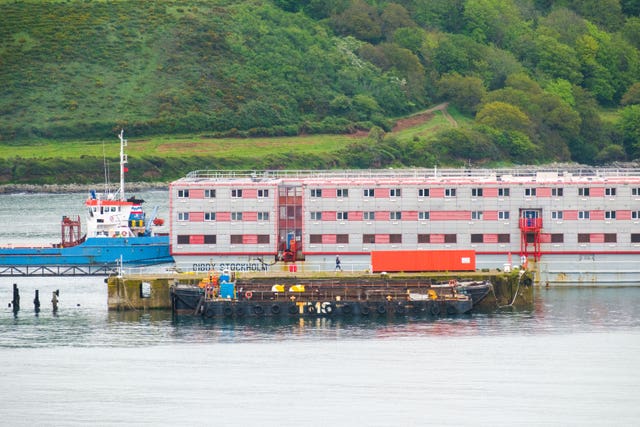 The Home Office says asylum seeker hotels cost the British public £6 million a day.
However, the leader of Dorset Council and the county's police and crime commissioner (PCC) have voiced concerns about the port's decision to allow the barge to dock.
PCC David Sidwick last week called for funding talks with Home Secretary Suella Braverman for the extra policing that will be required when the vessel arrives.
It comes after more small boats carrying migrants across the English Channel arrived at Dover, Kent, on bank holiday Monday.
A group of people were pictured on the docks after being rescued by a Border Force vessel.
The Home Office has not yet declared how many arrived on Monday, but Saturday saw 135 people arrive on three detected boats, with a further three carrying 134 across the strait on Sunday.
At least 6,500 migrants have arrived via the unauthorised route this year.