The UK has confirmed it will supply Ukraine with the long-range Storm Shadow missiles it requested for its fight against invading Russian forces.
Defence Secretary Ben Wallace said the weapons will give Ukraine the "best chance" of defending itself.
The Storm Shadow cruise missile is fired from aircraft and has a range of more than 155 miles, according to the manufacturer.
By contrast, the US-supplied Himars missiles currently used by Ukraine only have a range of around 50 miles.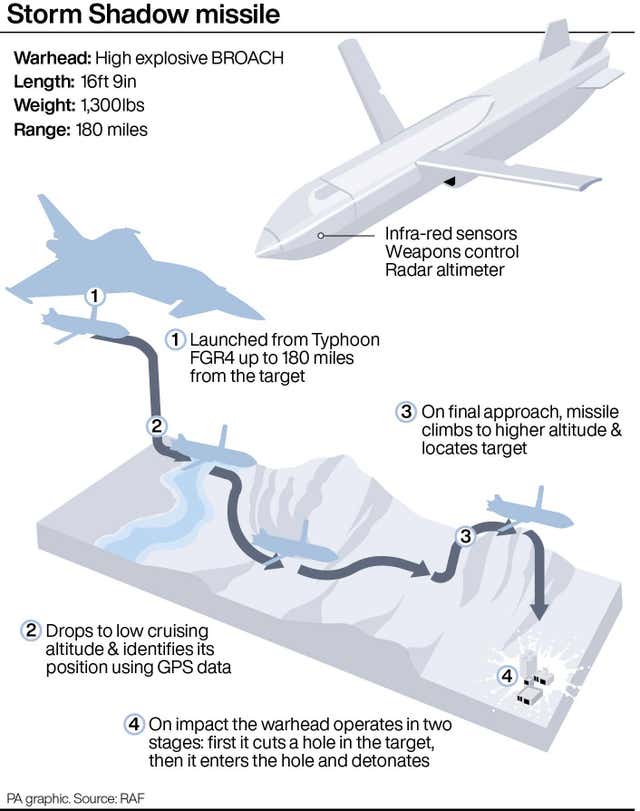 Powered by a turbo-jet engine, the 1,300kg Storm Shadow travels at speeds of more than 600mph, is just over five metres long and has a wingspan of three metres.
After launch, the weapon, equipped with its own navigation system, descends to a low altitude to avoid detection before locking on to its target using an infra-red seeker.
On final approach the missile climbs to a higher altitude to maximise the chances of hitting the target.
On impact, it penetrates the target before a delayed fuse detonates the main warhead.
Storm Shadow missiles have been used by British and French air forces in the Gulf, Iraq and Libya.