The UK economy marginally grew over the first quarter of the year, according to official data, further easing concerns the UK could soon enter a recession.
UK gross domestic product (GDP) increased by 0.1% between January and March, the Office for National Statistics (ONS) revealed.
But it came after a 0.3% decrease in March, driven by falls for the retail and wholesale sector while the healthcare sector was also impacted by strike action.
The ONS said growth during the whole quarter was impacted by industrial action.
The decline in March came after a flat performance in February and 0.5% rise in January.
Chancellor of the Exchequer Jeremy Hunt said: "It's good news that the economy is growing but to reach the Government's growth priority we need to stay focused on competitive taxes, labour supply and productivity.
ONS director of economic statistics Darren Morgan said: "Despite the UK economy contracting in March, GDP grew a little over the first quarter as a whole.
"The fall in March was driven by widespread decreases across the services sector.
"Despite the launch of new number plates, cars sales were low by historic standards – continuing the trend seen since the start of the pandemic – with warehousing, distribution and retail also having a poor month."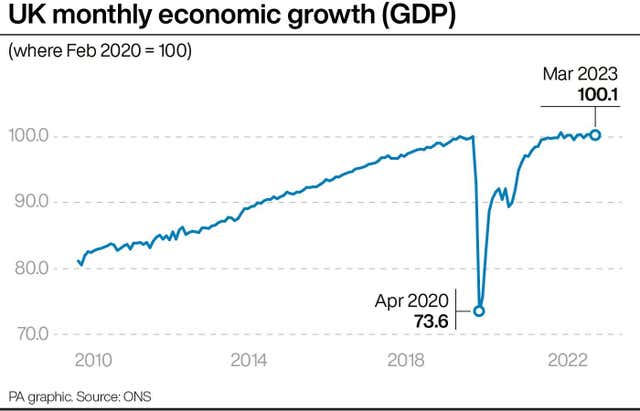 Consumer spending has continued to come under pressure from significant rises in the cost of living over the past year, with inflation most recently reported at 10.1% in March.
The ONS also highlighted a knock to monthly GDP from the motor vehicle trade, IT and communication and the transport sector, which has faced further disruption from industrial action.
The latest figures came a day after the Bank of England said it no longer predicts the UK will enter a recession this year after upgrading its economic growth projections.
In February, the central bank's Monetary Policy Committee believed the economy could fall into a shallow recession starting from the first three months of the year.
On Thursday, it said it expects GDP to rise by 0.25% this year before a 0.75% increase next year and the year after.
It came as the Bank also increased interest rates from 4.25% to 4.5% – the highest level since 2008.