Priti Patel has paid tribute to Boris Johnson for delivering on the "people's priorities" during his time in Downing Street – as she blamed "the centre of the party" for the Conservatives' poor local election results.
The former home secretary was one of the keynote speakers at the launch of a new grassroots movement – the Conservative Democratic Organisation (CDO).
Set up by supporters of Mr Johnson, the group wants to give party members more power and is critical of the way Rishi Sunak was appointed leader.
In a video message broadcast in the sparsely populated hall at Bournemouth International Centre on Saturday, Mr Johnson thanked CDO members for continuing to campaign "for freedom and democracy".
"And even, I'm afraid, some of those in the media that want to distort and make life difficult for us.
"We have seen, as discussed today, the ousting of a democratically elected… in fact, our most electorally successful prime minister since Margaret Thatcher."
Ms Patel described Mr Johnson as the "man that got Brexit done" and the person who "delivered on the people's priorities".
In what has been seen as a thinly veiled attack on Prime Minister Mr Sunak, she added: "I say this for an important reason: being democratically elected matters.
"It matters to us at the party grassroots but it also is important to reflect that colleagues in Westminster, by making the changes that took place last year, have also… turned their back on the membership and effectively broken that golden thread in terms of the democracy from the bottom of the party right up to the top.
"And we have to rebuild that."
On the local elections, which saw the Conservative Party losing more than 1,000 councillors and control of 48 councils overall, Ms Patel said: "If the centre of the party spent more time with us, listening, engaging, then I think it's fair to say we would not have seen over 1,000 of our friends and colleagues even lose their seats in recent local elections and dozens of councils fall out of Conservative control."
The organisation has repeatedly insisted it is not focused on bringing back Mr Johnson but speakers at the conference included several of his most prominent backers.
Ms Dorries told the conference "we are drifting" and "no longer have that inspirational leader and those visionary policies that people can go out and vote for".
She added: "We aren't articulating what the vision and the future of the country is and how we reconnect with Britain.
"We have to let people know what it is that we stand for and what we want to introduce in terms of the policies which will make their lives better."
In an interview with GB News' Dan Wootton as the conference came to a close, Ms Patel stopped short of suggesting that Mr Johnson should return as Conservative leader.
She said that the party owed Mr Johnson a "debt of gratitude" for the success in the 2019 election, as she praised the former leader as an "electoral asset".
"I actually very much hope, I really do, he's a big campaigner, he's a big figure, big box office in the grassroots. We will need him to come back and re-galvanise and re-energise the grassroots."
The gathering, which includes a gala dinner, is described as being for "like-minded patriots who… want to save our party and our country".
Edite Zadinane, a teacher from Maidenhead who travelled to Bournemouth to attend the event, told the PA news agency it was "amazing to see so many like-minded people" and that she would like to see Mr Johnson's return as leader.
She said: "I love Boris Johnson. We all make mistakes and I think the mistakes he made are forgivable."
Gordon Newell, from Chelsea, London, said: "Boris stands a better chance than Rishi Sunak of winning the election. Unfortunately, the collateral damage inside the Conservative Party would be epic."
He said he does not like the "direction of the Conservative Party", adding: "We should know the direction of the party and what we are campaigning for. If I am going to put my local MP back into office, I need to know what he is going to do. It really comes down to bringing the mandate, the policy mandate back to the membership."
Geoff Townley, from Titchfield, Hampshire, told PA: "I don't think there's any better contenders (than Boris Johnson)."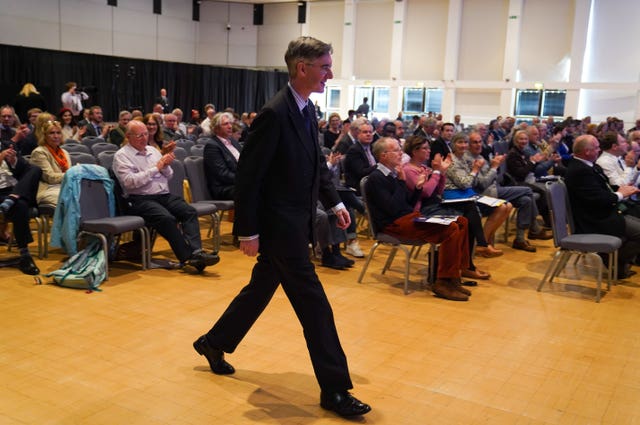 Before the event, the Conservative chairman of the Defence Committee Tobias Ellwood, who represents Bournemouth East, criticised his party colleagues for stoking divisions, writing in The Times: "A drag anchor of a right-wing caucus is in our ranks, and it has already written off any prospects of victory in 2024."
Meanwhile, after giving a speech in central London on Saturday morning, Labour leader Sir Keir Starmer said: "I have always said that among Sunak's weaknesses is that he didn't actually win a race to be leader of his party. The problem that gives him is that he doesn't have a mandate for change."