Criticism of Government policy by Tory MPs is a sign of a "healthy" party, a senior Cabinet minister has said.
Communities Secretary Michael Gove denied that the Conservative "tent" had become "too big", in comments at the National Conservatism conference in Westminster on Tuesday.
The conference, which started on Monday, has seen other Conservatives attack policies including the U-turn on scrapping EU regulations and the expansion of funding for childcare announced at the last Budget.
"I think it's a sign of a party and a broader movement that is healthy, that you can have debate.
"One of the arguments that's sometimes made is that after 13 years in power, the time has come to dispense with the Conservatives because there's a lack of ideas, there's a lack of intellectual energy, there's a sense of exhaustion.
"I completely disagree. I think what we've seen at different points is the Conservative Party, as it always has, adapting to changed circumstances."
He added: "We are now wrestling with a new set of issues and I think it's right that we have those conversations."
Mr Gove also stressed the need for Conservatives to advance their arguments with "self-confidence" and "civility" while being "intellectually robust".
He said: "I think that the overwhelming majority of people in this country prefer civility.
"They want people, when there are assaults, to stand up for them. This goes to the whole question of the so-called culture war that is raging at the moment.
"But we should do so with the self-confidence that means that we don't need to be strident."
The so-called "culture war" has been a significant feature of the National Conservatism conference so far, with one speaker earlier on Tuesday warning that left-wing forces were "at war with the West".
Kevin Roberts, chair of the Washington-based Heritage Foundation, used his speech to attack "globalists" and "ruling-class contempt of everyday working families".
He said: "This new left is not in competition, it is at war with the West, with the moral, intellectual and social foundations on which our entire civilisation rests.
"Which is why it reserves a singular hatred for the kind of conservatism represented by Donald Trump and (Florida governor) Ron DeSantis, by Brexit, by (Hungarian president) Viktor Orban, and yes, by this conference."
Mr Roberts's Heritage Foundation is one of the most prominent right-wing think tanks in the United States and was a strong backer of former US president Donald Trump.
Mr Roberts went on to attack the "normalisation of anti-Western, anti-Christian, anti-democratic, cultural totalitarianism in western newsrooms, classrooms and bureaucracies", as well as the "Covid lockdown debacle".
He added: "Things like democracy, the rule of law, free speech, religious devotion, marriage and family-ordered liberty, property rights and yes, the real free market."
He also accused "elites" in Europe of condemning Russian president Vladimir Putin's invasion of Ukraine "even as they coolly plot a far more aggressive and ambitious imperial project".
He said: "Today, the EU embodies the cultural chauvinism, spiritual decadence, strategic incompetence and tyrannical ambition that have hurried the continent into chaos for millennia.
"They think because they rule by pen and microphone, they are kinder and gentler than their gauche martinet predecessors who led armies and navies. They're not. They're just as imperialistic, ambitious, megalomaniacal and authoritarian as any of the bullies they hope to succeed.
"The only good news is that they're weaker than those who failed before them."
Mr Roberts made his comments on the second day of the National Conservatism conference, which has also heard from Home Secretary Suella Braverman.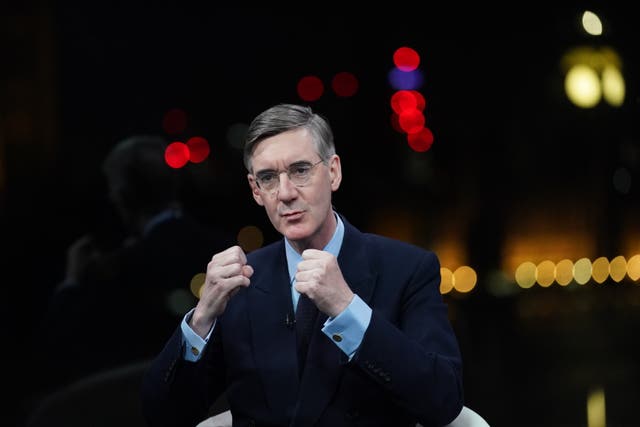 The conference's first day also featured speeches from former Cabinet minister Jacob Rees-Mogg and backbenchers Danny Kruger and Miriam Cates, who called for greater support for the family amid falling birth rates.
But Downing Street has declined to endorse the conference, with the Prime Minister's spokesman telling reporters: "Some Government ministers have chosen to speak at the event. But beyond that, there's no change in our policy."
Downing Street also said the Prime Minister disagreed with comments made by Mr Kruger in his speech, where he argued the "normative family" with a mother and a father was the only basis for a functioning society.
Other speakers have called for Conservatives to take their children out of "woke" schools and claimed sex education was being "outsourced" to "rainbow activists".