Britain's jobs market has showed further signs of strain as the flatlining economy takes its toll after official figures revealed another surprise rise in the unemployment rate and the first fall in payrolled workers for more than two years.
Official figures showed the rate of UK unemployment rose to 3.9% in the three months to March, up from 3.8% in the previous quarter and the highest level since the three months to January 2022.
Most economists had expected the rate to remain unchanged at 3.8%.
In another sign of a flagging jobs market, the ONS said the number of vacancies fell by 55,000 quarter on quarter to 1.08 million in the three months to April amid "uncertainty across industries", marking the 10th fall in a row and the lowest level since June to August 2021.
And the number of those off work due to long-term sickness rose to a new record high, at 2.55 million, up from 2.53 million in the previous three months and 2.47 million in the fourth quarter of 2022, due in part to mounting backlogs in the NHS and the impact of long-Covid.
But the figures indicate that while more people are returning to the jobs market, not all of those looking are able to find work.
Experts said the cooling jobs market may give the Bank of England reason to pause its campaign of interest rate rises, following last week's 12th hike in a row, to 4.5%.
"Following last week's Bank of England's Monetary Policy Report we were left distinctly uncomfortable with our view that the Bank rate has peaked, but today's report should help to ease some of the Monetary Policy Committee's angst over persistent inflation."
But he said "it will probably take another soft labour market report" and weaker inflation data to "persuade the committee that it is safe to pause".
This is despite another rise in average regular pay growth, to 6.7% in the three months to March.
Chancellor Jeremy Hunt said: "It's encouraging that the unemployment rate remains historically low but difficulty in finding staff and rising prices are a worry for many families and businesses."
But the pay gap between public and private sector is narrowing, with public sector workers seeing pay growth at the highest level for 20 years.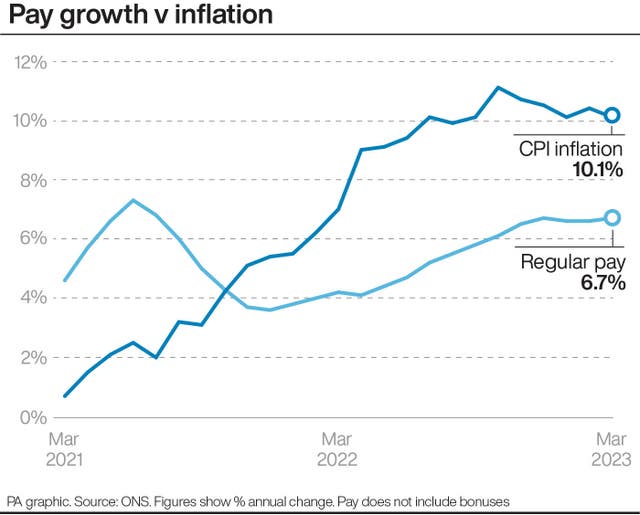 Pay disputes amid the cost-of-living crisis has led to crippling strikes across the UK in recent months, in both the private and public sector.
The latest data laid bare the extent of industrial action, with 556,000 working days lost due industrial action in March, up from 332,000 in February.