Just Stop Oil (JSO) protesters interrupted an influential committee of MPs as senior police officers were quizzed about arrests made during the coronation.
MP Tim Loughton was questioning Metropolitan Police Temporary Assistant Commissioner Matt Twist about Operation Golden Orb when a campaigner was heard interrupting proceedings.
The live feed to the proceedings was swiftly cut as five protesters were made to leave the room in Portcullis House where hearings take place, and the committee carried on after a few minutes' pause.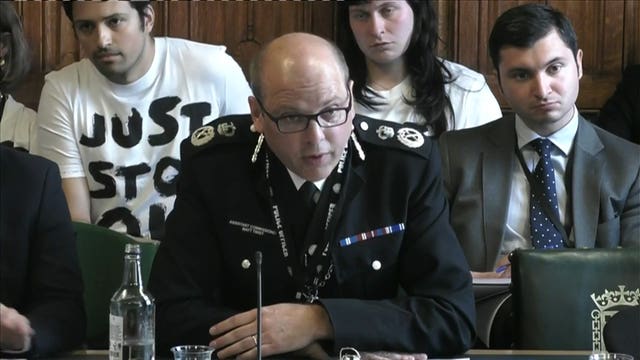 As the proceedings finished, committee chairwoman Dame Diana Johnson said: "We take very seriously that Parliament should be open to members of the public – that's very important – but we also take very seriously that we should not be disrupted from our job of scrutinising, particularly what happened in this case.
"I also just want to thank the security and the police officers who acted very quickly to ensure that the session could continue."
The five protesters who attended the committee on Wednesday were from a group of 19 campaigners arrested on May 6, the day of the coronation.
A JSO spokesperson said: "This is a continuation of the silencing of legitimate dissent we saw at the coronation.
"The Metropolitan Police baselessly arrested doctors, lecturers, students and electricians simply for possessing flags and T-shirts.
"No evidence has been provided and now those wrongfully arrested are being prevented from giving evidence to the very committee that has been organised to assess the policing during the coronation."
JSO has been staging a series of demonstrations in recent weeks by walking slowly in the middle of roads in central London.
The Met Police said eight JSO protesters were arrested in Parliament Square on Wednesday morning because they did not comply with conditions to move out of the road.
The force said the protesters had been slow walking and the road is now clear.
JSO said 28 people had been marching to Parliament "demanding this Government stop licensing new oil and gas projects, which they know will contribute to the deaths of millions".
It said: "This is a crime against humanity. We will not be complicit."
In separate incidents, Extinction Rebellion supporters interrupted speeches by Home Secretary Suella Braverman and Tory MP Jacob Rees-Mogg earlier this week.